Starbucks Workers Strike
Starbucks workers have embarked on a 3 day strike that would affect 100 stores. The strike which began on December 16 and ends on December 18, happens to be the second time that workers are going on strike .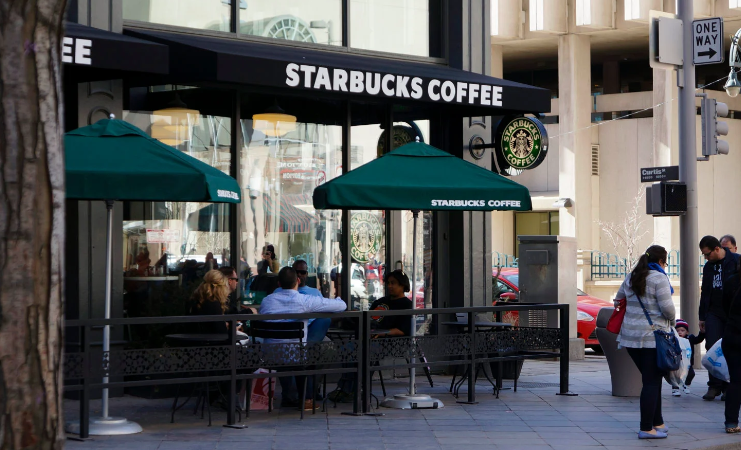 A group of employees known as Starbuck Workers United had gone on a one day strike at 110 Starbucks Stores on November 17, which was the annual red cup day, a day set aside by Starbuck where free reusable cups are given away to customers that orders a holiday drink. Why are these staffs going on strike? Is Starbuck doing anything about it? Read on, for answers to these questions.
About Starbucks
Starbucks is an American multinational coffeehouse chain and roastery reserve with 9,000 coffee stores. It is the world's largest coffeehouse chain founded in 1971 by Jerry Baldwin, Zev Siegl and Gordon Bowker in Seattle, Washington.
What led to the Starbucks workers strike?
Speaking on the Starbucks workers strike, Collin Pollitt, a union barista and SBWU organizer in Oklahoma City, Oklahoma reveals that union is taking the action because of the unfair labor practices the company is engaging which is being investigated by the NLRB. "The most recent are the denial of credit card tipping to union stores, hours cuts and the closing of union stores." he stated.
Former Starbucks shift supervisor and union organizer, Tori Tambellini has also reacted to the ongoing move by the Starbucks Workers Union. She pointed out that workers are protesting understaffed stores, poor management and what she calls Starbucks' "scorched earth method of union busting," including closing stores that have unionized.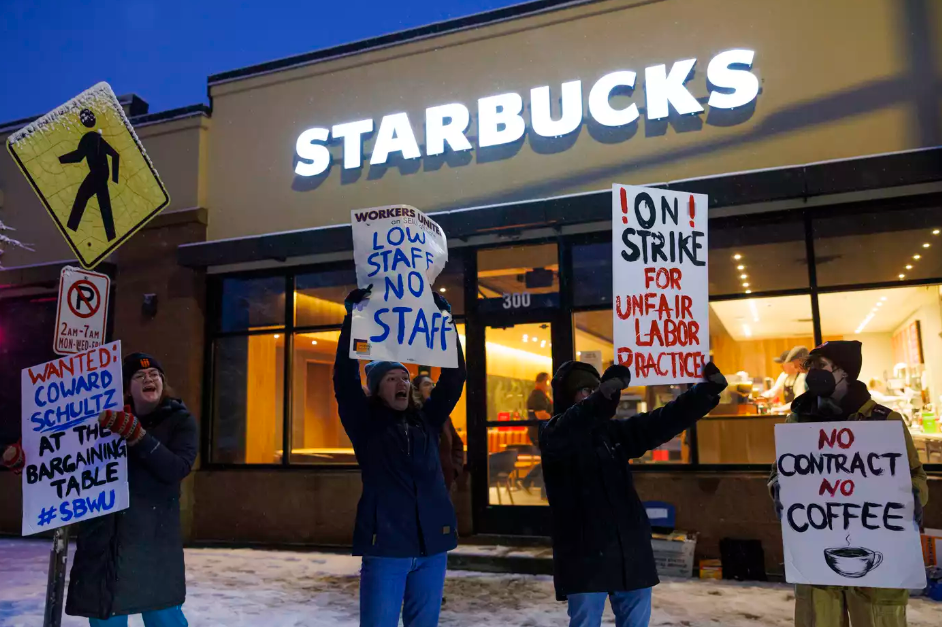 The union is therefore calling for unionization. The union has record 270 union election wins in the past one year and are still pushing for more unionization effort in new stores.
Starbucks Workers United posted "Starbucks doubled down on their union-busting, so we're doubling down our fight for a contract. We want Starbucks to be a place where workers can have sustainable careers and be rewarded for their years of hard work for the company."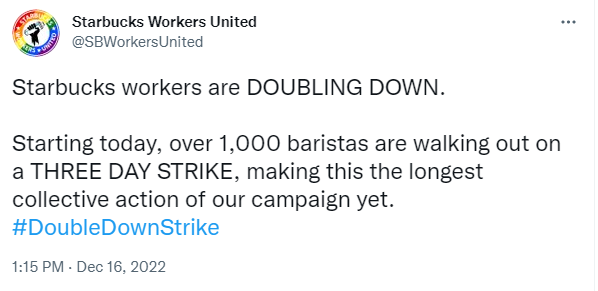 In addition to the strike, The union is appealing to Starbucks customers not to buy gift cards this holiday season until Starbucks comes to the table and negotiates in good faith.
"Our focus remains on all partners and our commitment to continue to work together, side by side, to make Starbucks a company that works for everyone." Starbucks spokesperson said
How did Starbucks react to the strike?
The unionization effort has been strongly opposed by Starbucks. The company stated that it functions better when it works directly with employees. Although they had earlier mentioned that company they respect employees' lawful right to protest. At least 150 employees around the country have been fired by Starbucks as a retaliation for their union organizing. Also reacting to the union's effort, the company has closed down union stores.
Conclusion
We hope that Starbucks and the union reaches an agreement as soon as possible in order to put an end to subsequent Starbucks workers strike actions.