Twitch places a 14 days ban on popular Streamer, Nadia Amine. Wondering what led to her ban? Find out in this post.
About Twitch
Twitch is an American video service for live streaming released in 2011 by Amazon's subsidiary, Twitch Interactive. It offers music broadcasts, creative content, and in real life streams.
How Did Nadia Amine become popular?
The 22 years old American streamer first started streaming in January 2021 and organized a fundraiser campaign for a food bank in Tampa Bay, Florida. Nadia became popular for streaming Call of Duty, Warzone.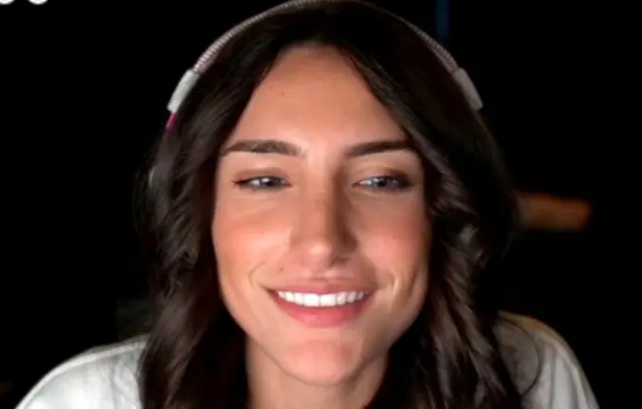 Nadia was accused several times for cheating in the Warzone community. Many people are of the opinion that she uses wallhacks and aimbots to become one of the "best" Call of Duty streamers. Reacting to the troll, she expressed her frustration, insisting that she plays the game fairly. Nadia currently has 182,000 subscribers on YouTube and 164,000 fans on Instagram.
Why was Nadia Amine Suspended?
Nadia seems to be confused as to the reason for her ban. She made this known on Thursday, December 15 in her post on twitter.
"Got banned on twitch for 14 days for sharing personal information…? whatever that means. cool". She wrote.
.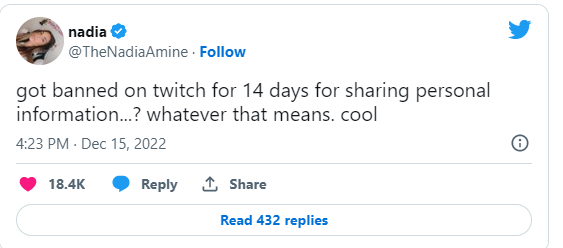 However, a fan posted a video showing what would have warranted the ban from Twitch. The video highlighted these three reasons.
Firstly, She revealed the full name of a donator on a stream after the user called Daddyslayer sent her a message together with his donations. The message says "Enjoy using cheats." 
Secondly, after receiving the message, Nadia Amine rained insults on him in the streamed video saying "I hope you find time to actually do something in your f***ing life because now you look like a f***ing idiot," She went on to say that claimed that she got his real name from the PayPal donations he sent.
Thirdly, She was banned because she went against the guidelines set by Twitch Community. Revealing personal information of users without their consent, is a punishable offense.
How fans reacted to the ban
Fans have been wondering what might have led to Nadia's ban from Twitch. Although, there has not been any confirmed reason for being banned, it is unlikely to be as a result of the Call of Duty allegations. While some frowned at the ban, others seem to be in support of it . "I watched the clip, she intentionally doxxed him Should be a permaban without even a question Amazing that Twitch is struggling with this." Someone posted.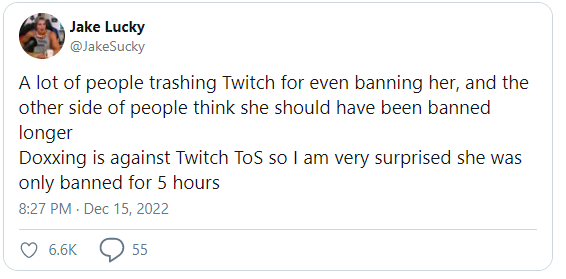 Conclusion
The ban has been lifted just 5 hours after the notice as opposed to the 14 days initially stated. However, the reason for the ban is yet to be officially revealed. Doxing is an act that should not be encouraged, It puts the victims at risk.