The game between the Buffalo Bills and Cincinnati Bengals has been postponed by NFL following the collapse of the 24-year-old Damar Hamlin during the game which took place on Monday, January 2, 2023 He was rushed out of the field with an ambulance in a critical condition and has been taken to the hospital for immediate medical attention. Read on for more details.
What led to Damar Hamlin's collapse
Damar Hamlin collided with Bengals receiver Tee Higgins who hit Hamlin in the chest with his right shoulder few minutes after the game commenced. Unfortunately, in an attempt to pull Higgins down, Damar stood up and later collapsed backwards. Other players gathered around him panicking before he was taken to the hospital. He suffered cardiac arrest which led to his collapse.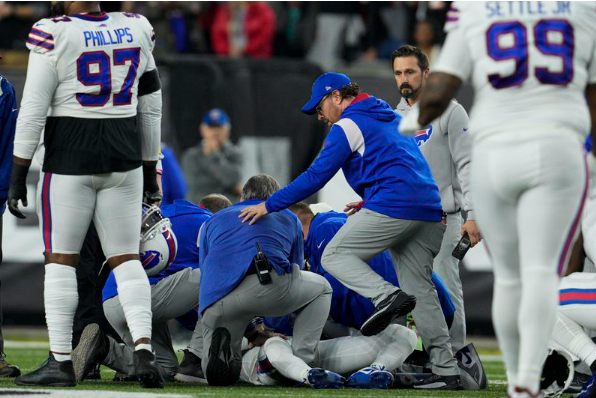 Reports says that his heartbeat was restored on the field and he was transferred to the UC Medical Center for further testing and treatment.
"Last night was supposed to be a great night for the NFL and a great showcase for our hometown. Instead, the human side of our sport became paramount and in that moment, humanity and love rose to the forefront" Bengals boss, Mike Brown says, praying for a quick recovery.
The NFL also assured that their prayers are with him, stating that the health and wellbeing of the injured player is the only thing that matters at the moment.
The family of Damar Hamlin has released a statement thanking his team, fans and everyone who contributed to making sure that the player gets back on his feet.
"On behalf of our family, we want to express our sincere gratitude for the love and support shown to Damar during this challenging time. We are deeply moved by the prayers, kind words, and donations from fans around the country." The post reads.
"We feel so blessed to be part of the Buffalo Bills organization and to have their support. We also want to thank Coach Taylor and the Bengals for everything they've done. Your generosity and compassion mean the world to us."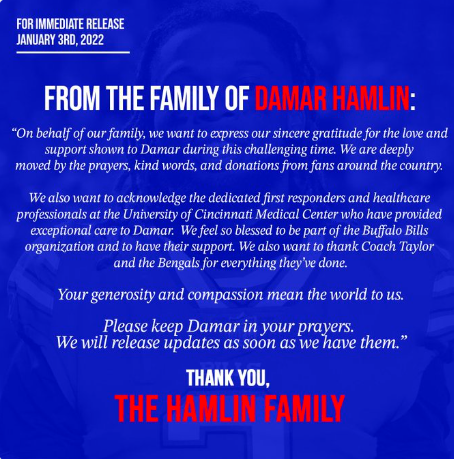 Fans and friends shows support for the injured player
His colleagues have taken to their social media to send their best wishes and prayers for Damar Hamlin. Andrew Irlbacher, a fan of Buffalo Bills who witnessed the collapse scene noted that "It was surreal"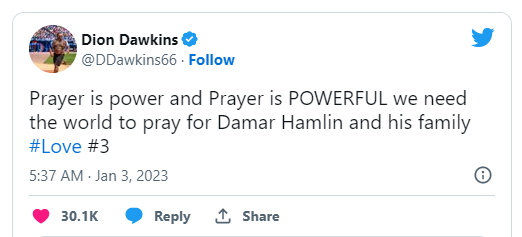 Over $1 million donations have been raised by Hamlin's foundation, Chasing M's for his annual toy drive just few hours after his collapse with the initial target being $2,500.