The news of Cher's death has been trending over the internet recently. Tributes have been rolling out from fans who seems to believe that American Singer, Cherilyn Sarkisian popularly called Cher is dead. Why is her death trending? Is she actually dead? Find out in this post.
Is Cher dead?
No. the popular singer is very much alive. However, she has been passing through tough times as a result of the death of her mother. In a tweet on Sunday, December 18, Cher stated that she is down with flu. The post reads "Can't stop coughing, throat's on fire. Was going to flu shot, but hesitated, cause of Antivaxers' propaganda. If you don't want a vaccination, keep it to yourself. WTF is wrong with these people." However people has been misinterpreting her post assuming that the singer is dead.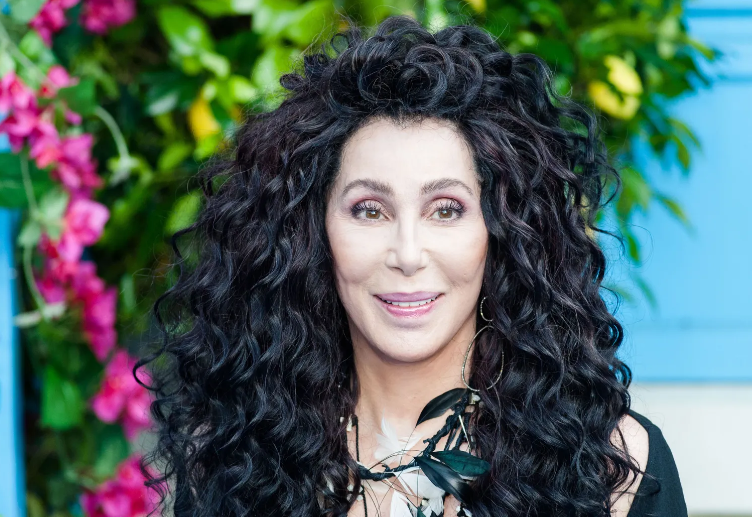 Also, as at Saturday, December 17, her Facebook page was flooded with condolence messages in reaction to the post on her page which reads:
"At about 11 a.m. ET on Saturday (December 17, 2022), our beloved actress Cher passed away. Cher was born on May 20, 1946 in El Centro. She will be missed but not forgotten. Please show your sympathy and condolences by commenting on and liking this page."
However, On Sunday, December 18, it was officially confirmed that Cher is still alive and well.
What led to the death of Cher's mother, Georgina Holt
The 76 years old singer has taken to twitter on December 11 to announce the death of her mother, Georgina Holt. "Mom is Dead" She said. The singer seems to be going through a lot following the passing of her beloved mother.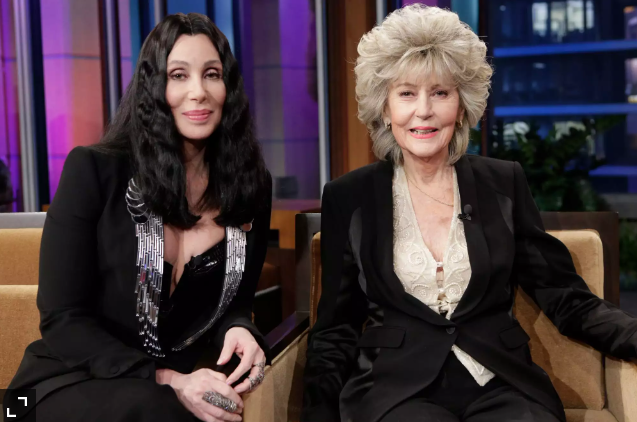 Holt died at the age of 96 after she suffered a cardiac arrest when she was on her way to the hospital. "Finally she coded (cardiac arrest)… By time we got to the hospital, the woman who was my kick a** mum was no longer here," Cher also posted. The singer had announced in September that her mum was hospitalized with pneumonia after suffering from recurring health issues. She has been sharing several tweets in memory of her mother.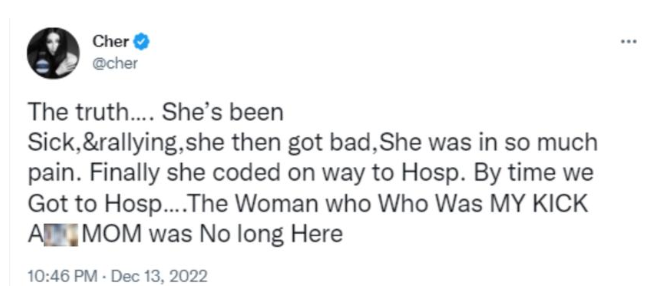 "Mom Would Be So Trilled That People From All Over (the world) Are Talking About Her With (love) & Admiration. Truth Is…I TOOK MOMS VOICE & HER DREAM & MADE THEM REAL. She Couldn't Manifest Them, So I Did It 4 Her,& Made Her Happy. My SISTER GEE WAS THE BRILLIANT ONE." Cher tweeted the next day after announcing her death.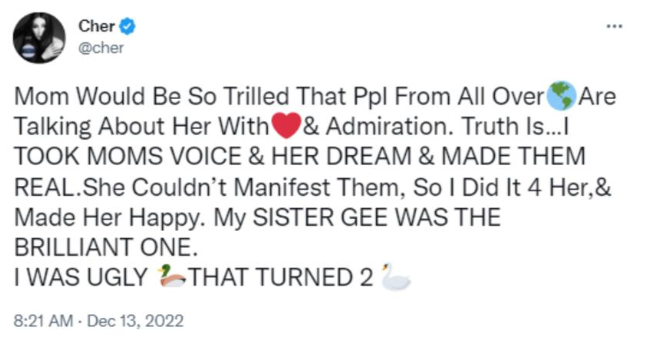 Fans and friends have reacted to her tweets, sending condolence messages across. We hope she gets over the loss of her mother as soon as possible. Also, people should desist from sharing false and unverified news on social media.