Are you wondering if ReTress Hair Kit is capable of improving your hair health? Read this review to know if this hair solution is worth your money.
What Is ReTress Hair Kit?
ReTress Hair Rejuvenation Kit is an at-home haircare kit that promises to grow and maintain healthy hair by reducing shedding and thickening hair. The kit costs $84.15 and contains the following:
ReTress Shampoo
ReTress Conditioner
ReTress Serum
ReTress Supplements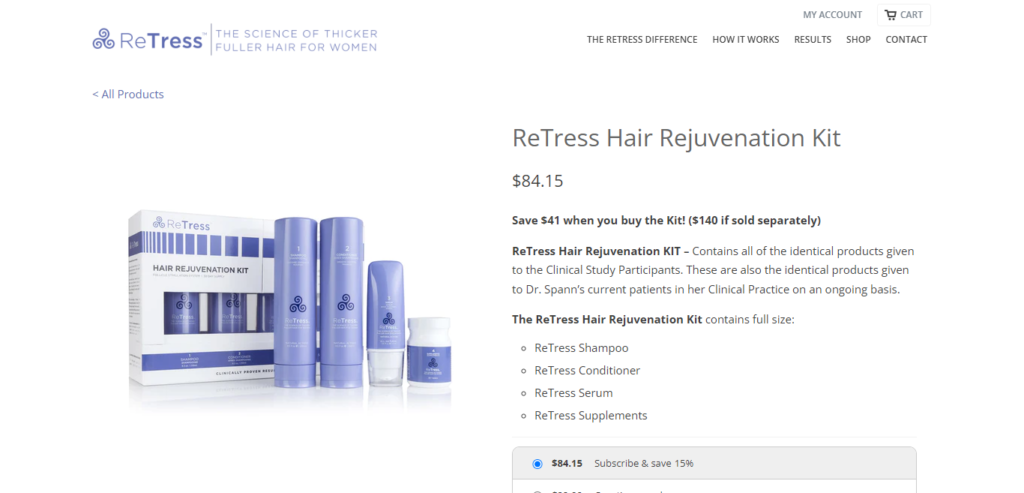 What ReTress Hair Rejuvenation Kit Does
calm scalp irritation
restore dry, brittle, and tangled hair
nourish hair follicles and support natural anchoring of the hair
soothe itchy or inflamed scalp
support healthy hair and hair growth
Do You Know You Could Get Back Your Money If You Have Been Scammed?   Great News! Click HERE to Get Started
Does It Work?
There are tons of hair care kits like ReTress Hair Kit on the internet and they all claim to give amazing results.
In our reviews, what we always look out for are these:
the visibility of the product owner
the authenticity of their website contents
what customers are saying about the product
Most fraudulent products have no visible owner and always use plagiarized information, and they usually do not have reviews outside their own store.
ReTress Hair Rejuvenation Kit was founded by certified Dermatologist Dr. Candace Spann. The contents used on their website are original texts. Also, there are tons of positive reviews outside their website. For instance, a user wrote this on LovelySkin:
I love this set! I started losing my hair from stress and probably hormones (I'm 42 F). I have been increasingly become more and more intolerant to many shampoos and soaps. I can tell immediately if my scalp doesn't vibe with certain shampoos because my hair will fall out as I'm washing it. My scalp thinks this one is acceptable though. I have noticed a fullness to my hair since I started using this. Less hairs on the floor of the bathroom and in the shower. I'll continue to use this and hopefully I'll eventually have less fly-always. Now that some new hairs are coming in… might take a little more time, but I'm feeling good about this one.

-Belina
Verdict
ReTress Hair Kit is genuine and it works. However, like with HairMax Laser Comb, Radiant Cosmetics and Divi Hair Serum, results will vary from person to person. While for some people, their desired results will show shortly, for others, it may take longer.
Also, if you're undergoing stress, there is a high chance that it may take longer to work.
If you have used ReTress Hair Kit and have opposing views, please share your experience with us in the comment section.