Is radiant cosmetics legit? If you are struggling with brittle, thin, and damaged nails, read this review to know if Radiant Cosmetics nail growth oil is capable of improving your nail growth.
What Is Radiant Nail Growth?
Radiant cosmetics nail growth oil is an 'innovative nail growth formula' made for people who want to grow long, healthy, and bright nails.
Key Ingredients of Radiant Nail Growth Oil
Fatty Acids
Vitamin E
Vitamin C
Biotin
Alpha Hydroxy Acid
With the aforementioned ingredients, Radiant Cosmetics nail growth formula promises to replenish your nails by moisturizing, growing, strengthening, and brightening your nails.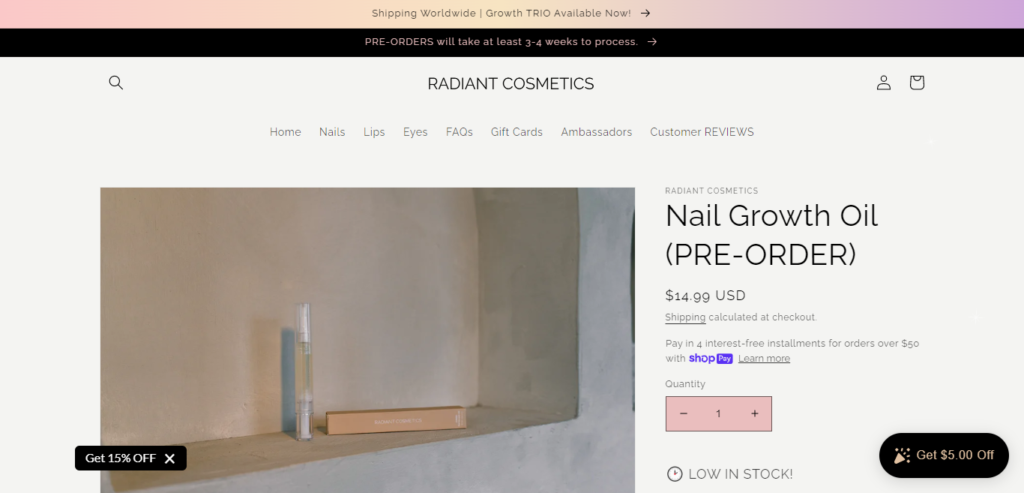 How To Use Radiant Cosmetics Nail Growth Oil
As recommended:
clean cuticles

apply oil to cuticles and massage it in

apply oil to nail top for brightening
This has to be applied nightly, and results are expected to show in 1-3 weeks.
Do You Know You Could Get Back Your Money If You Have Been Scammed?   Great News! Click HERE to Get Started
Does Radiant Cosmetics Work?
In our reviews, we usually look out for two things: the visibility of the product owner, and what customers are saying about the product.
Radiant Cosmetics is the brain child of makeup artist Ruth Ismayelyan, popularly known as @rxthism on Tik Tok and Instagram. Radiant Cosmetics' website has been up since 2009, which is a good sign (most fake products usually have very recent websites). The cosmetics company has grown quite popular over the years, boasting an impressive number of followers on their Instagram handle.
On Radiant Cosmetics' website, there are a lot of glowing reviews, praising the nail oil for its effectiveness, with before and after pictures to support their claim. These positive reviews were also found on social media, such as Instagram and Tik Tok, and in high numbers. Because of this, we believe the reviews are genuine, and that the nail growth oil works.
Verdict
Radiant Cosmetics nail growth oil seems genuine. However, like with Divi Hair Serum, results will vary from person to person. While for some people, their desired results will show shortly, for others, it may take longer.
Also, if you're undergoing stress or not keeping your nails clean while applying the nail oil, there is a high chance that it may take longer to work.
If you have used this nail growth oil and have an opposing opinion, please share your experience with us in the comment section.