Are you wondering if K18 Hair Mask is capable of improving your hair strength? Read this review to know if this hair solution is worth your money.
What Is K18 Hair Mask?
K18 Hair Mask review is a leave-in treatment mask for all hair types that can reverse damage in as little as 4 minutes using a patented peptide technology. 15mL of K18 hair mask costs $29, and 50mL costs $75. It can restore damage caused by the following:
bleach
color
chemical services
heat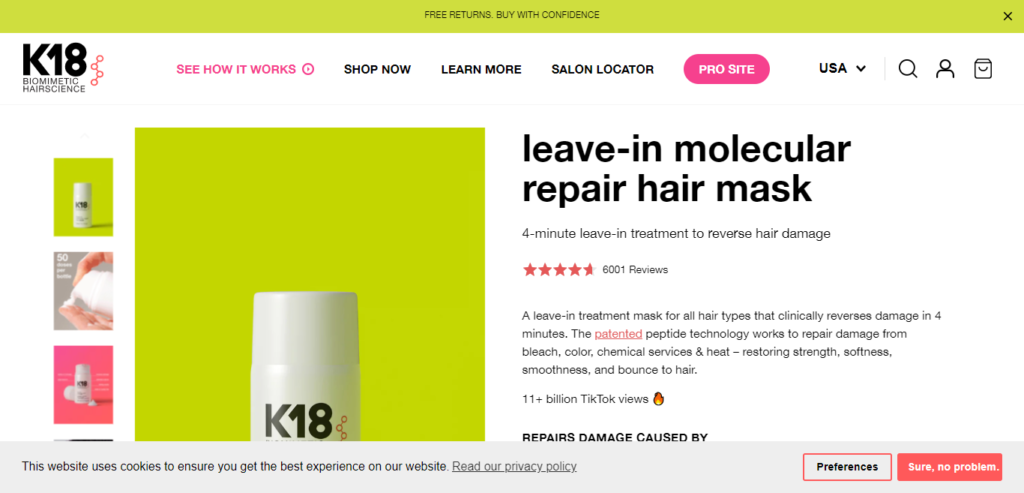 What K18 Hair Mask Does
reconnect broken keratin chains
renew hair with strength
restore softness, smoothness, and bounce
How To Use (After Shower)
towel hair dry
start with 1 pump of the K18 Mask (more can be added depending on the length, thickness, and condition of hair)
massage evenly into hair from ends to roots, one pump at a time
allow it to sit for 4 minutes to activate
do not rinse out
style hair as usual
K18 hair mask is vegan, color-safe, and cruelty-free.
Do You Know You Could Get Back Your Money If You Have Been Scammed?   Great News! Click HERE to Get Started
Does It Work?
There are tons of hair care kits like K18 on the internet and they all claim to give amazing results.
In our reviews, what we always look out for are these:
the authenticity of their website contents

what customers are saying about the product
Most fraudulent products always use plagiarized information, and they usually do not have reviews outside their own store. In-house reviews can be manipulated by the product owner so that what a prospective buyer sees are only positive comments. On the other hand, reviews on secondary platforms cannot be influenced in that way and are, therefore, more trustworthy.
The contents used on K18's website are original texts. Also, there are tons of positive reviews outside their website. For instance, a user wrote this on Amazon:
I have dark curly hair that is getting a lot of gray so I decided to go a lot lighter. For curly hair that usually means your curl is damaged. K18 is a bit pricey, but worth it! It really repairs the hair and brings back the curl!
Verdict
K18 Hair Mask is genuine and it works. However, like with ReTress Hair Kit, HairMax Laser Comb, Radiant Cosmetics and Divi Hair Serum, results will vary from person to person. While for some people their desired results will show shortly, for others it may take longer.
Also, if you're undergoing stress, there is a high chance that it may take longer to work.
If you have used K18 Hair Mask and have opposing views, please share your experience with us in the comment section.