Have you been searching for comfortable bras without underwire? Is Zen Chic Bra the right bra to buy? Read this detailed review to know if this bra product is genuine.
What Is Zen Chic Bra?
Zen Chic Bra is a new bra product trending on the internet. A pair costs $26.99, discounted from $79.95, and it is sold at zenchicbra.com. The makers of this bra claims it was designed particularly for leisure wear and for yoga and also for sleeping. But is Zen Chic Bra genuine?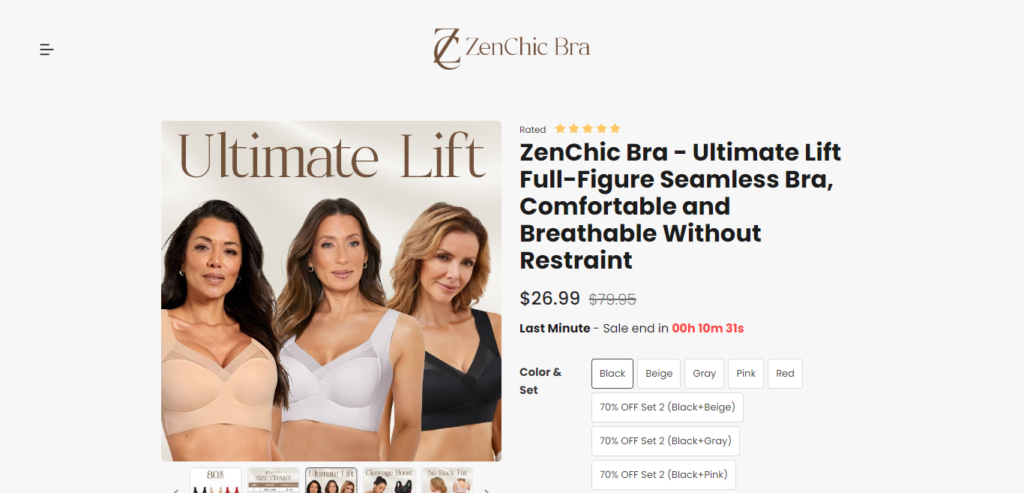 How It Works
Zen Chic Bra is made from spandex and nylon. It comes in the following colours:
The bra offers to support and lift breasts, keeping them firm and separate so there will be no 'uniboob'. In addition, the Zen Chic Bra has no underwire, so it leaves no trace lines underneath your clothing as is common with most bras.
Do You Know You Could Get Back Your Money If You Have Been Scammed?   Great News! Click HERE to Get Started
Is It Genuine?
Every now and then, a new bra product takes the internet by storm. They usually look very good and comfortable, and they come at a cheap price point that can be enticing. Women often complain of how uncomfortable most bras are, so who wouldn't want to jump on a new product that promises to do the job but without the discomfort?
When looking for the authenticity of a product, the first line of action is to see what real users are saying. We found no reviews on the internet confirming that this bra is real. The only reviews about Zen Chic Bra were the ones written on their website, which are not even verified purchases. Why we prefer reviews from secondary sources is this: to an extent, it is free from the manipulation of the product owners.
Also, the price for which they are selling the bra is too cheap. No one can get an original spandex bra for that price. Furthermore, we scanned their website and it returned a bad trust score of 2%. This means that the owners behind this product are hidden. It is best to not trust product owners who are anonymous.
Conclusion
We do not trust Zen Chic Bra. They could just be another bra scam like Geemor Bra. We advise that you stay away.
If you have used this product or attempted to do so, please share your experience with us in the comment section.