Is collagen serum good for your face? Does collagen serum help with wrinkles? Read this review to know if Youngerme Collagen Serum can give you a smooth and brighter skin.
What Is Youngerme Collagen Serum
Youngerme Collagen Serum is an anti-aging serum claiming to remove wrinkles, fine lines, dark circles and crow's feet, among others. A bottle of it costs $24.97 and it is sold at youngermi.com.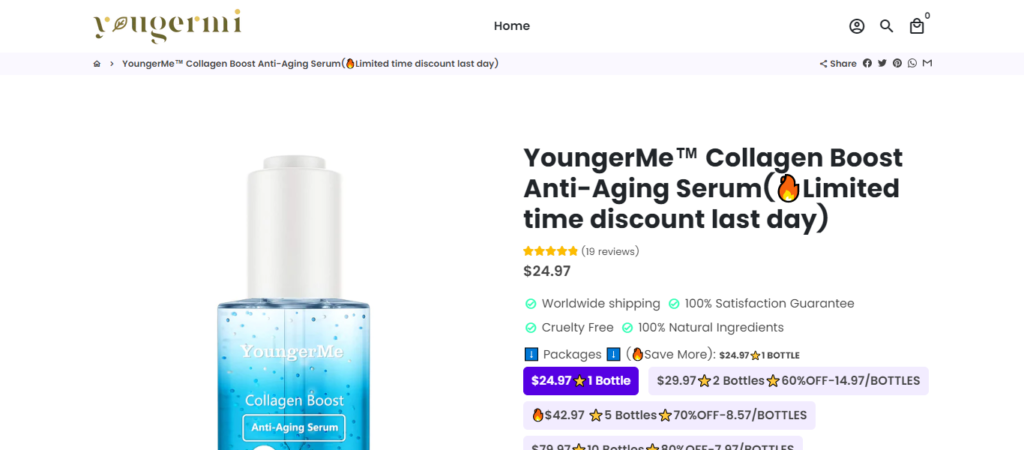 How Does It Work
The older we get, and the more we encounter stress, the less firm our skin becomes. This also happens because our body produces less collagen as we age, and therefore our skin begins to lose its elasticity. Youngerme Collagen Serum offers to help the skin rebuild its lost collagen, thereby regaining its tightness.
Youngerme Collagen Serum contains the following key ingredients:
matrixyl 3000
hyaluronic acid
ceramides
vitamin c
It is to be applied day and night and results are expected in about 7 weeks after first use.
Do You Know You Could Get Back Your Money If You Have Been Scammed?   Great News! Click HERE to Get Started
What We Found About Collagen Serum
Recently, there has been a proliferation of skin care products on the internet, many of which promise to, by application or ingestion, replenish the skin's collagen and make it smoother and younger. However, many of these products, as we have seen, turned out to be untrue. People who used them complained of seeing no changes.
To know the authenticity of a product, we firstly look out for customer reviews. For Youngerme, we did not find any reviews outside their website. We usually do not trust reviews in the product owners' website because they can be manipulated from within, so secondary reviews are more honest.
Also, understanding how collagen is formed or replenished would make one doubt how genuine collagen pills and serums are. Gago Wellness, a skincare agency, wrote:
Collagen is made up of thousands of elements called amino acids. In order to turn collagen into a pill, powder, or potion, the manufacturers have to deconstruct it, so you can't be sure exactly what your supplement contains.

Gago Wellness
Conclusion
Youngerme Collagen Serum should not be trusted. We advise that you do not buy this product yet.
There are many untrustworthy skincare products, like Pore Renew and Niu Age Skin Serum, promising amazing results on the internet. But, in the end, such products usually turn out to be fake. And that is why we conduct reviews such as this, to help our readers know if a product is genuine or not.
If you've used Youngerme Collagen Serum, please share your experience with us in the comment section.