Searching for Wow It Eye Cream Maelys reviews? Read this to know if Maelys Eye Cream can eliminate your eye bag.
What Is Wow It Eye Cream
Wow It Eye Cream is a Maelys Cosmetic product that supposedly reduces puffiness and tightens the skin under the eyes. Eye bags are caused by a number of factors such as aging and a lack of sleep, and it shows as mild swelling, loose skin, or dark circles underneath both eyes. Maelys Eye Cream promises to eliminate them, no matter how stubborn the eye bags are.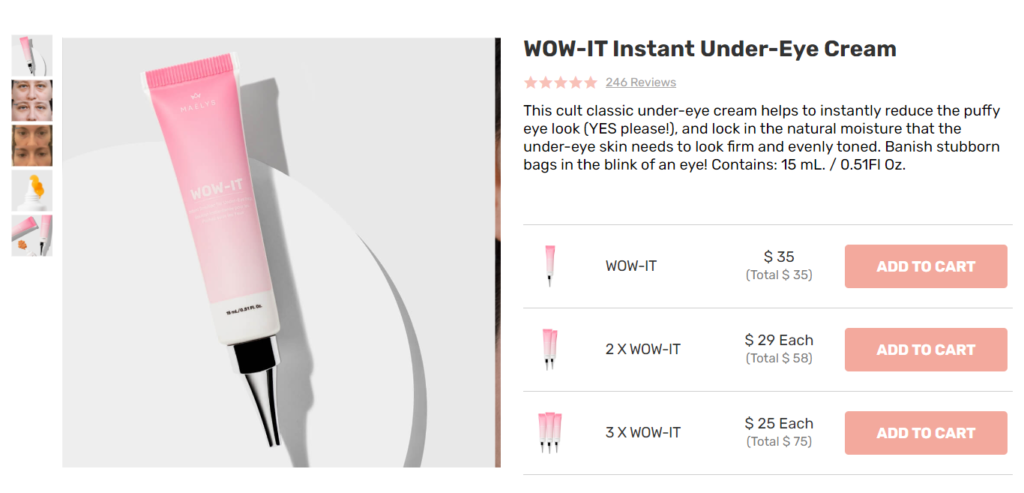 How It Works
When applied, Wow It Eye Cream helps the skin to lock in moisture, which keeps the under-eye skin firm. In addition to this, it promotes production of collagen, which helps the skin regain its firmness.
How To Use
wash face clean and keep dry
apply wow it eye cream lightly around lower eye area
maintain a natural facial expression and fan skin
do not move face muscles for about 2 minutes
relax facial muscle after cream is set
Ingredients
collagen & elastin
hyaluronic acid
eyeliss
Do You Know You Could Get Back Your Money If You Have Been Scammed?   Great News! Click HERE to Get Started
Does Wow It Eye Cream Work
If a product works, one would easily come across positive reviews online. For Wow It Eye Cream, we did not find positive reviews outside the ones written on their store. Why we cannot fully trust reviews on their website is that it can easily be influenced from within.
This is not the first time we have seen a skin care product that had good reviews only on its website. And for those products, they ended up not being genuine.
Conclusion
We do not trust the efficacy of Wow It Eye Cream, so we advise against any rushed purchase. However, if you have used this product already, kindly share your experience with us in the comment section as a way to encourage or warn a prospective buyer.