Quantum Code is a dangerous scam! Read our QuantumCode Software review. Beware of this binary trading app. The QuantumCode is supposedly a system that automates binary options trading If you have received an email to join this system, we strongly advice you discard it. Quantum code trading software will lose your investment and leave you wrecked. Michael Crawford as he calls himself, is seen in the sales pitch with promoting this piece of shit.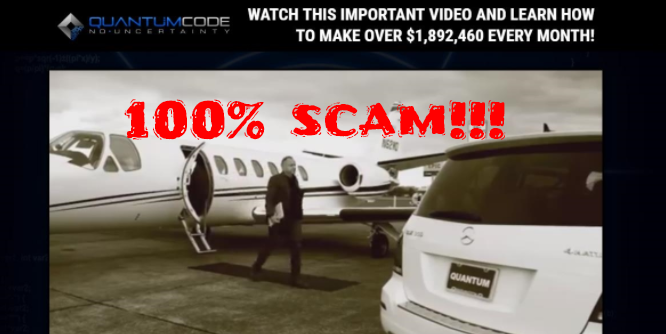 Disturbing Things Found About the Quantum Code Software
Michael Crawford who claims to be a money bag and philanthropists just to get your attention asserts that he has been featured on Forbes and other financial magazines. We did a search and found out that, he is not existent, the only name that came close was an editor for New York Times, that is certainly not him.
He further states that he has earned over 10 billion dollars  in the past 10 years using this software. We checked up when the Quantum Code Software Website was registered and we discovered that this website came into existence on June 2016, which consolidates the fact that it is a scam and its claims shredded in falsehood.
Quantum Code Software App also promises to make you $10,000 in a day. Don't be deceived, this is not possible in binary options trading, not with an investment capital of $250 which you would be required to start with.  This system works with unregulated brokers, your funds are not safe with this Software. We have gotten numerous complaints from traders that have been scammed and ripped off. Initially when they get your phone number, they bombard you with calls to invest a huge amount of money with a great return on investment, when you deposit your money and they open an account for you, they suddenly disappear into thin air after stealing your money. You will totally lose contact with them.
Review Verdict:
Quantum code is a SCAM. Beware of this software
Summary
Trading binary options could be very profitable, only if you use legitimate softwares and tools. Run away from scams, they will lose your investments and leave you devastated. Only use systems recommended by our team of professionals.

Thanks for reading our review of Quantum Code Review. Stay safe!
Summary
Reviewer
Review Date
Reviewed Item
Author Rating