Millionaire Blueprint by Walter Green is a scam! His Free Money System is designed to rip traders off. Run away from get-rich-quick systems that claims to turn you into a millionaire overnight. The Millionaire Blueprint Software is supposedly a system that trades binary options for you completely on auto-pilot.  It claims to make you a millionaire in 90 days. The Free Money System is a dangerous scam, lots of traders have lost their money with this system.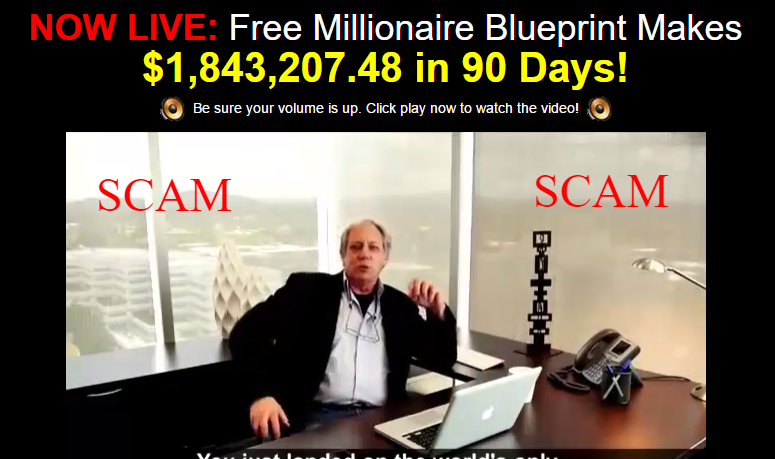 Millionaire Blueprint Scam Busted!!!
Walter Green claims to be worth over $48 million through just clicking a mouse. And you believe his assertion? Its all lies. There are no evidences to support his claims, it cannot be verified. He further goes on to state that he has made over 152 new millionaires with his Free Money System. Where are the millionaires?
In the sales pitch you would see people claiming to have made millions from this system. They are all part of the scam, we have seen those faces before giving false testimonials in similar scams, as a matter of fact, they are all actors hired from fiverr.com(an internet marketplace) to give false testimonials, they have never used the system. They are only acting out a script to deceive you.
There are several conflicting statements as well, at first he stated that the win-rate of this software is 100% and it never losses a trade. Later down the video he contradicts himself by stating that the win-rate is 95%. Which of them should we believe? Not surprisingly, all statements are false. If you are a professional in trading, you would know that no software can offer a win-rate of 100%, even a win-rate of 95% is elusive. Any system that promises you that is an utter scam. Best binary softwares have win-rates in the range of 80-88%, and with this you could make decent profits. So run away from systems that claims 100% ITN because its a huge lie.
Review Verdict:
The Millionaire Blueprint is a SCAM 
Summary
Trading binary options could be very profitable, only if you use legitimate softwares and tools. Run away from scams, they will lose your investments and leave you devastated. Only use systems recommended by our team of professionals.

Thanks for reading our review of Millionaire Blueprint Software App Review. Stay safe!