Are you looking for the right hair product to give your hair lovely curls? Are you wondering if Merwave can give your hair that bouncy, wavy look? Read this detailed review to find out if Merwave's wavy hair kit is the product you need for natural wavy hair.
What Is Merwave
Merwave is a hair kit product that promises to help users maintain wavy hair. Each Wavy Hair Kit costs 68 GBP, and in addition to bringing out the curls in hair, the hair product can:
restore damaged hair
reduce frizz and breakage
Also, each wavy hair kit contains the following:
Cleanse Shampoo
Repair Conditioner
Feed Treatment
Cast Foam
Protect Gel
Deep Conditioning Mask (free gift)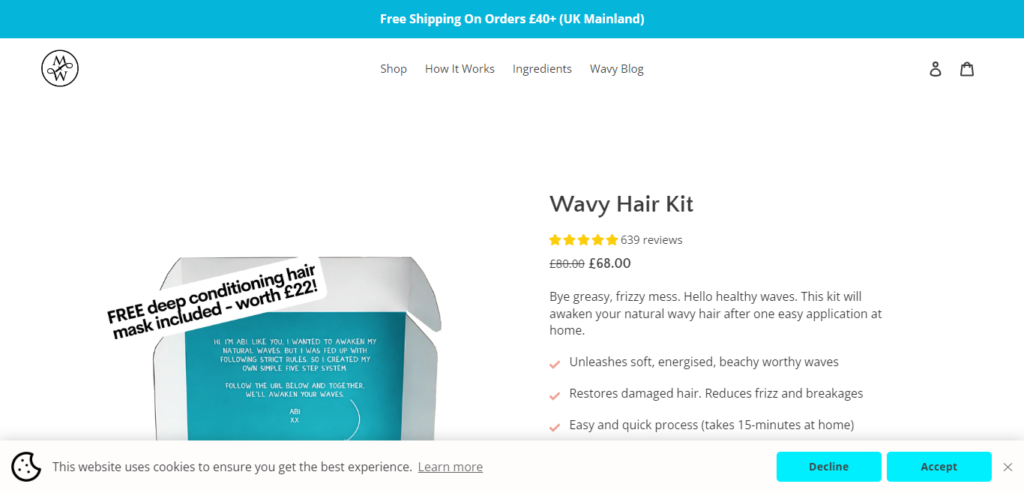 Does It Work
For hair products such as Merwave, we usually look out for customer reviews. On Merwave's website, we found a healthy number of positive reviews; however, we prefer reviews from secondary sources as those are not susceptible to manipulation by the owners of the product.
On Trustpilot, a user wrote this:
I have been using Merwave for just over a year now. I love how simple the system is to follow, and after a bit of experimenting with amounts of products I now have lovely soft waves and curls with very little effort!

-Rebecca Peacock
On Facebook, another user wrote:
These products are so good and do exactly what they say they will. At times the clumpy waves are so good that it almost looks like my hair has been heat styled. The wave stays too. Sometimes day 2 is better than day 1!

-Rachel Willett
How To Use
use Cleanse Shampoo to wash hair
condition hair with Repair Conditioner
apply Feed Treatment
massage hair with Cast Foam
apply Protect Gel
Conclusion
Merwave has enough positive reviews on the internet; so, we believe it is genuine. Over the years, we have come across hair products such as Hairpoww that promised glowing results but disappointed its users. And because of this, many internet shoppers have become skeptical of new, trending products. We hope that this review cleared things up for you.