Are you developing thinning hair? Have you been searching for remedies to regrow your hair? Read this review to know if Hairpoww is a genuine product that can repair hair loss.
What Is Hairpoww
Hairpoww is a unisex laser comb sold on hairpoww.com. With its soft laser technology, hairpoww promises to stop "hair loss and restore volume, shine and length to your hair" without causing any damage.
The laser comb comes in four modes:
vibration mode
laser mode
LED mode
laser and LED mode
But does hairpoww work?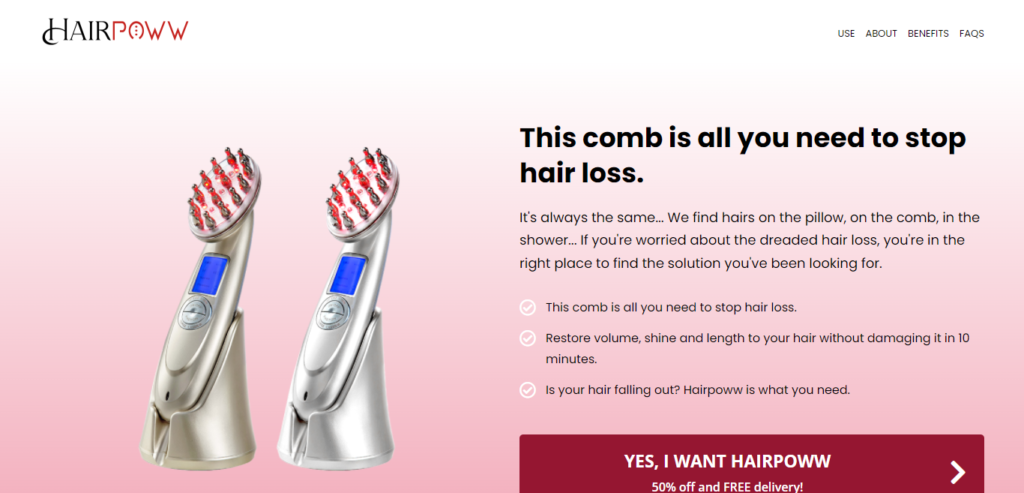 How Does Hairpoww Work
A lot of people, both men and women, suffer hair loss as they begin to approach a certain age. Lately, there have been many products on the internet proposing to solve this challenge. Among them are laser combs.
What are laser combs? You may be wondering.
Laser combs use low power soft laser technology to stimulate hair follicles, which activates weak hair cell and revives hair growth. This, however, does not work for spots where the cells are already dead. And this is what many product sellers do not say.
Hairpoww uses this same laser technology to control hair loss problems. They promise hair growth results in just 8 weeks after use, where, prior, Hairpoww laser comb had been used for 10 minutes daily.
Do You Know You Could Get Back Your Money If You Have Been Scammed?   Great News! Click HERE to Get Started
What We Found About Hairpoww
Although their webpage and its contents were impressive, we did not really believe that this product is authentic. One, Hairpoww laser comb has only positive reviews on their store; however, outside their store, we found no reviews. Also, on their footer, all the links there lead to Ecommerzpro, an ad platform, and this is unprofessional.
In addition, after scouring through their website, we found no contact information. It is suspicious that the owner's of a product sold primarily online would have no contact information which customers can reach them by.
Generally, with regards to laser combs, many have argued about their effectiveness. Debra Jaliman, for instance, says:
You may have heard that laser combs, brushes, hoods, and caps can help halt hair loss. The theory is that when hair follicles absorb laser light at a certain level, it stimulates hair to grow. But there's not enough evidence that any of these devices restore hair or prevent balding.
Verdict
There so many hair products on the internet promising to restore hair growth; however, most of them are a hoax. We advise that you avoid Hairpoww for now, until there are positive reviews about their laser comb from sources outside their website.
If you have used Hairpoww laser comb, please share your experience with us in the comment section.