Do you have troubles with vacuuming tight corners? Looking for a light-weight vacuum cleaner that can do the job? Read this detailed review to know if Ruvio Vacuum Cleaner is the product you need.
What Is Ruvio Vacuum
Ruvio Vacuum is a cordless and compact vacuum cleaner that is suitable for cleaning tight corners such as underneath couches, refrigerators, in-between car seats, and so on. Its handheld design, high-speed and high-powered motor, makes it suitable for light cleaning.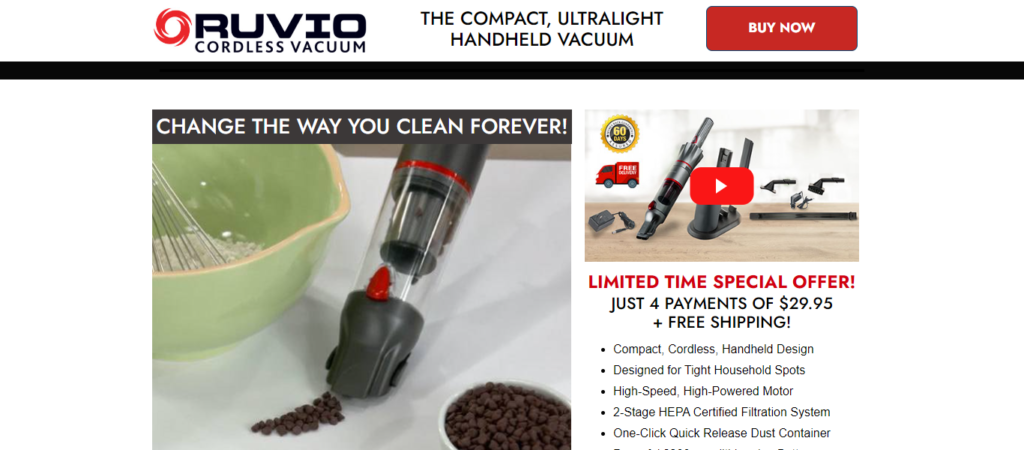 Does It Work
Ruvio Vacuum seems to work. What they advertised is feasible and we have seen similar lightweight products doing similar tasks. However, for a product that costs $29.95, we can't trust its durability or the strength of its suction. When we looked at other handheld vacuums priced around the same amount, we saw that what most customers complained about was that these lightweight vacuum cleaners had weak suction.
How To Use
Ruvio Vacuum Cleaner works the way other vacuum cleaners work. Its suction is pointed to areas that need to be free from dirt, and its motor would suck in the dirt as you cover the area. At the end of your cleaning, there is a one-click quick release dust container that allows you to easily discard the vacuumed dirt.
Pros
suitable for light cleaning
great for removing pet hair from couch
cordless
easy to use
affordable
Cons
not suitable for heavy cleaning
weak suction
no reviews to confirm durability
Conclusion
Ruvio appears to be a descent vacuum cleaner, suitable for lightweight cleaning. Considering its size and price point, we do not expect its motor to be powerful enough for heavy suction, so its use may be limited to light cleaning.
If you have used Ruvio, however, and have contradictory or agreeing views, please share with us in the comment section.