Does Radiance Within work? If you want to improve your skin appearance and general wellbeing, read this review to know if Radiance Within by Lumiday is capable of improving your body's wellness.
What Is Radiance Within?
Radiance Within is a wellness product that offers to help you to "radiate beauty from the inside out". It is made by Lumiday and is specifically for women. A bottle of it costs $79.99, and it can be bought on Lumiday's website and on Amazon.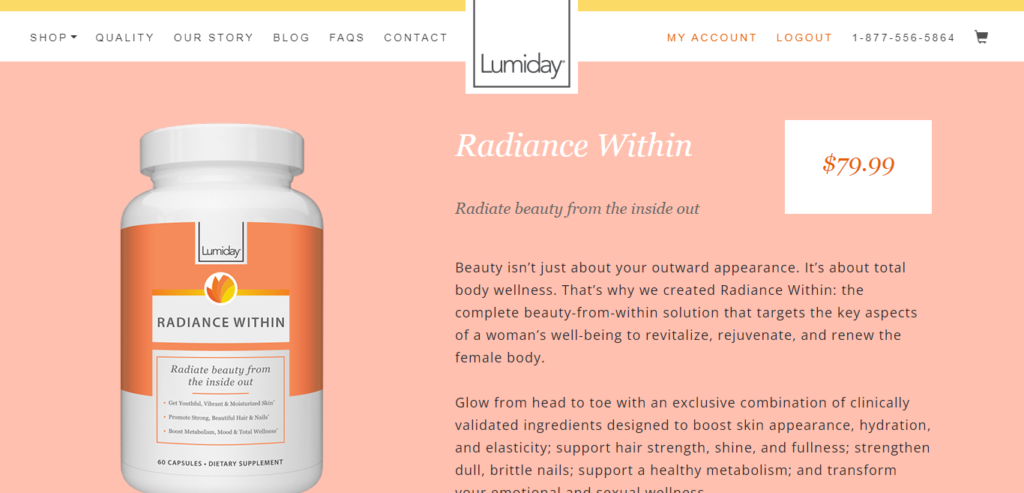 Radiance Within Ingredients
Vitamin C
Vitamin D
Red pepper extract
Quercetin
Biotin
Ashwagandha root extract
With the aforementioned ingredients, Radiance Within promises to reduce fine lines & wrinkles; improve hair shine, volume & strength; strengthen nails & decrease breakage; increase arousal & lubrication, allowing better orgasms for women.
How To Use Radiance Within
As recommended:
For results to show, this has to be taken daily. The capsules can be taken with or without food.
Do You Know You Could Get Back Your Money If You Have Been Scammed?   Great News! Click HERE to Get Started
Does Radiance Within Work?
In our reviews, we usually look out for two things: the visibility of the product owner, and what customers are saying about the product.
Radiance Within was made by leading nutritionist Natalie Jones, who holds a Masters of Science degree from Florida State University. This is a good sign because fake products are seldom backed by someone who is credible.
For reviews, why we do not trust reviews on the product owners' websites is because it can be manipulated. Radiance Within has a lot of positive reviews on Amazon, which is a good sign: verifiable people have used the product and they've seen results. A customer wrote this:
I've read a lot of mixed reviews and want to tell you that for ME this product works. I'm on my 2nd bottle. I wasn't sure if it was working and then went out of town for a long weekend. I found out how much it was working for me. I have more energy and a sense of calm and lightness. My complexion is improved and exima is gone. It doesn't hurt my stomach and I'm very sensitive to medications. I was feeling very dull and lethargic prior to taking this supplement. I'm 51 and COVID put a spin on life even though my lifestyle didn't change that much.

-Rhonda
Verdict
Radiance Within is genuine. However, like with Radiant Cosmetics and Divi Hair Serum, results will vary from person to person. While for some people, their desired results will show shortly, for others, it may take longer.
Also, if you're undergoing stress, there is a high chance that it may take longer to work.
If you have used this Radiance Within and have troubling side effects or an opposing opinion, please share your experience with us in the comment section.