Looking for Exipure supplement reviews? Have you been curious about Exipure side effects? Read this to know if Exipure weight loss supplement is capable of reducing body weight.
What Is Exipure
Exipure is a wieght loss supplement produced by Dr. James Wilkins. Each capsule contains a blend of eight nutrients and plants designed to normalize your brown fat levels, thereby reducing your body weight. The US-manufactured Exipure is a natural formula and is FDA registered. Exicure supplement is ideal for people who have stubborn fat stores that neither diet nor exercise has helped to reduce.
Key Ingredients In One Exipure Capsule
Each capsule of Exipure supplement contains the following:
Perilla
Holy basil
Kudzu
White Korean ginseng
Propolis
Quercetin
Oleuropein
The formula is non-GMO, completely plant-based, and free from soy and dairy. All weight loss and hair growth formulas we come across usually promise being natural and effective. But that hasn't been the case when used by people. Exipure didn't work for some customers, as we will expose in this review.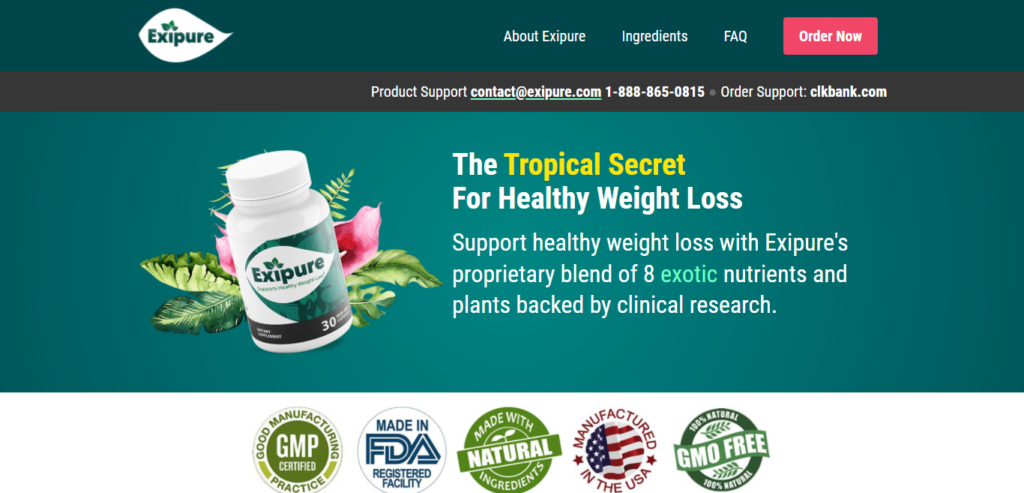 How Does Exipure Work?
As recommended by the manufacturers, take one capsule of Exipure with a big glass of water. For people over 35 years, you are advised to take Exipure weight loss pills for at least 3 to 6 months. This strecth of time will allow the supplement to settle properly into your body and yield maximum effect. Meanwhile, for those who see no results after prolonged use, Exipure promised a 180-day 100% money-back guarantee.
Each bottle of Exipure costs $59 for a 30-day supply. Three bottles cost $49 for a 90-day supply, and six bottles cost $39 for a 180-day supply.
Do You Know You Could Get Back Your Money If You Have Been Scammed?   Great News! Click HERE to Get Started
What You Should Know About Exipure Weight Loss Pill
Exipure is a product primarily marketed on exipure.com, and so far, there has been mixed reviews about the efficacy of their weight loss formula. On their website, there are a number of glowing reviews, praising the supplement for its effectiveness. However, outside their website, especially on Amazon, we did find very negative reviews. So, we cannot vouch for the authenticity of those positive reviews on Exipure's website.
On Amazon, where Exipure has a 3.5 rating, a customer wrote:
"It seems like it works for a lot of people but it has not worked for me and I've been taking a full month."

-Isabel Araolaza
However, on Trustpilot where Exipure has a 4.1 rating, a user wrote:
"Thank you so much for making Exipure, works very very VERY well for me and all my family. Together we all lost 106lbs."

-Billy Collins
Does Weight Loss Pills Work?
Brown Adipose Tissue, also called brown fat, is usually the target of weight loss pills. Brown fat doesn't burn as easily as white fat does. It acts as a thermo-regulator, and activates when you get cold. Its primary function is to regulate body temperature in cold weather. So, it is quite hard to burn through diet or exercise alone.
FDA-approved weight loss pills that are medically certified should have positive effects when taken to control brown fat. However, the pills alone may not work for all body types. Some body types are known to naturally produce more brown fat than other body types. In addition to taking these pills, there has to be guidance from a certified health practitioner.
"FDA-approved weight-loss diet pills aren't a magic bullet for weight loss. They won't work for everyone, all of them have side effects, and none of them are risk-free. But the modest benefits they provide may outweigh the risks if your obesity-related health risks are significant."
Conclusion
All pills have side effects, especially pills advised to take for prolonged periods. So far, Exipure has mixed reviews, so we can't trust everything they promised. It's best policy to maintain a healthy diet, then consult your doctor before taking any weight-loss pill.
If you have used Exipure weight loss supplement and seen results, please share your experience with us in the comment section.