Are you having sciatic nerve pain and are looking for a remedy? Read this Beactive Acupressure Plus review to know if it can give you instant relief!
What Is Beactive Acupressure Plus
Beactive Acupressure Plus is an acupoint pressure pad that can be applied to acupressure point (like the calf area below the knee) as a way to relief pain without the use of drugs or massage therapy. It can be worn under clothes and turns off sciatic nerve pain in a short time. Beactive Acupressure Plus costs only $29.99.
How It Works
The pressure pad is made from neoprene and polyester. It comprises 80% neoprene and 20% polyester, so it may not be suitable for those allergic to neoprene. The durable and breathable mesh fabric allows air flow and, therefore, provides cooling comfort for the bandaged area.
The material is treated with healing substances that, on contact with your skin, target the nerve points where the pain is felt and then turns off sciatic nerve pain signals, providing relief. In essence, Beactive will do the following:
reduce pain
allow mobility
improve sleep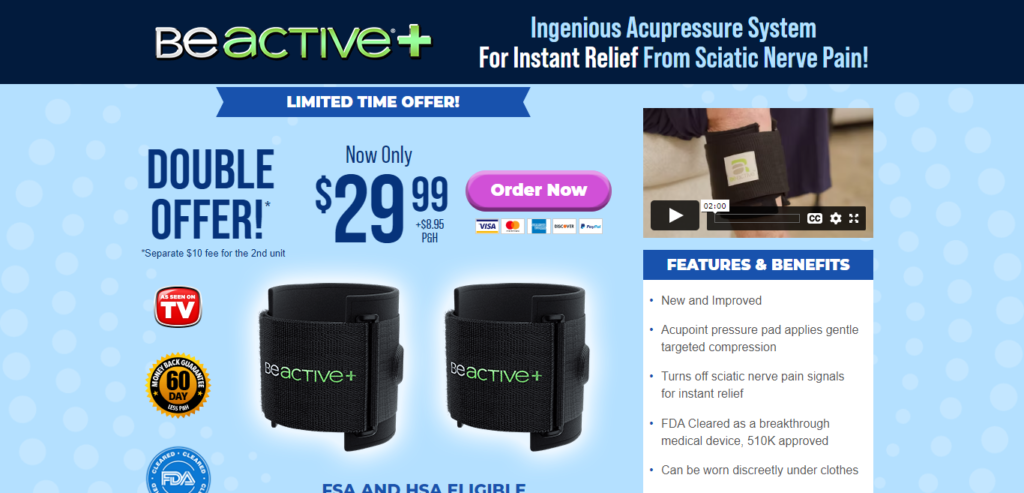 Do You Know You Could Get Back Your Money If You Have Been Scammed?   Great News! Click HERE to Get Started
Does Beactive Acupressure Give Instant Relief?
The first thing I will say is Beactive Acupressure looks exactly the way it was advertised. The material is durable and allows adequate air flow, so I didn't feel the heat that usually comes with using a casual bandage. For its effectiveness to relieve sciatic pain, because I had no pain myself, I couldn't know for sure what it was doing.
However, I did search for reviews from other customers online and found very positive reviews, especially on Amazon where I know the customers are verified buyers. For instance, a user wrote this:
My husband has had sciatic pain for about a year and a half. We bought him the hemorrhoid inflatable donut. It worked for a little while when sitting down. We also bought the microbead pillows to adjust when laying down while laying on the hemorrhoid pillow. Those worked for a while. Like everything else they also stopped working. He saw an ad for the Beactive pressure point wrap on tv and thought why not. The key thing with the wrap is you have to get the pressure point button in the right spot on your calf or it will not work. I have done pressure points on my husband for years for headaches, sinuses and pain in other areas. They do work. He is on his third day of wearing it and no pain!!! If something changes I will update."

-H. Dorsett
Conclusion
Beactive Acupressure is a genuine product and it works exactly as described.
If you've used Beactive Plus, please share your experience with us in the comment section.
(See other products we have reviewed here and here.)