Are you looking for safer ways to clean wax from your ear? Do you intend to buy Wush Ear Cleaner for this purpose? Read this Wush Ear Cleaner review to know if this earwax remover is safe.
What Is Wush Ear Cleaner?
Wush Ear Cleaner is an earwax removal tool by Black Wolf. With the press of a button, Wush can gently and effectively clean your ears, removing build-up wax and flushing it away using a massaging triple jet stream of water. It is rechargeable and comes with the following accessories:
1 ear irrigator
1 water basin
6 tips
a USB charging cord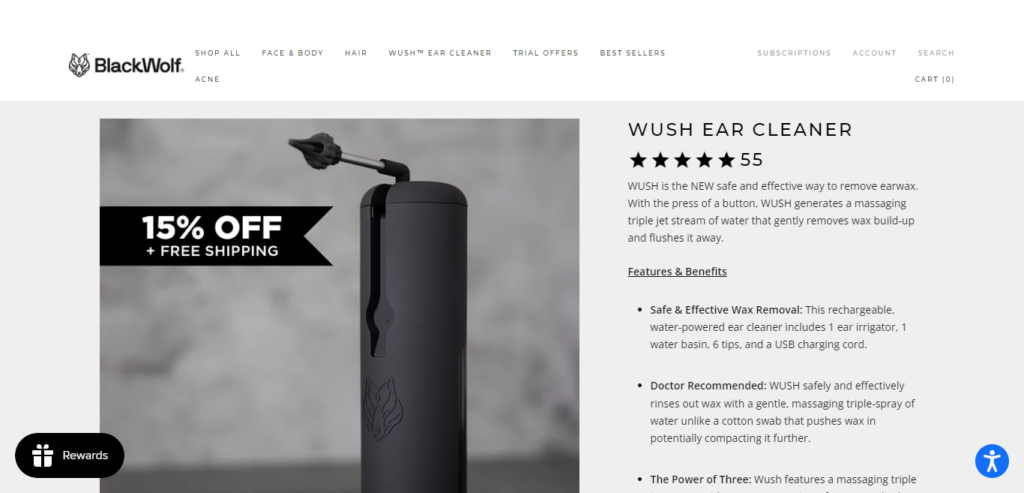 How It Works
For a long time, cotton swabs were primarily used to clean the ear canal. However, doctors have stated that this method is unsafe, as the cotton swab can push wax further into the ear canal and cause injuries that could lead to ear ache, hearing loss, or tinnitus. It is because of this that alternative methods such as Wush rose. However, is Wush Ear Cleaner safe?
Wush has a foldable nozzle that is connected to an antimicrobial irrigation tip. This tip was built to comfortably fit the human ears. After the water chamber of Wush is filled with warm water, the tip is inserted into the ear canal, and a button is pressed. This button comes with 3 pressure settings: gentle clean, moderate, and wax removal. After the press of the button, a triple jet stream of water is released, gently cleaning or flushing the ear of accumulated wax.
It's best used in a shower as use over a sink can be messy.
Do You Know You Could Get Back Your Money If You Have Been Scammed?   Great News! Click HERE to Get Started
Does Wush Ear Cleaner Work?
Every now and then, a product takes the internet by storm, with its ads everywhere, promising enticing features and results. Sometimes, such products with promises that are too good to be true have turned out to be scams.
In reviews such as this, what we always look out for, in addition to testing the product when possible, is the visibility of the owner of the product and external customer reviews. This is because most fraudulent products have no visible owner, and they always write false reviews in their own stores.
Owner Information
Wush is a part of a men's grooming business run by two brothers Sam and Alex Lewkowict. Their profiles are easily verifiable.
Customer Reviews
On Amazon, where Wush has a very good rating of 4.6 out of 5 stars, a customer wrote:
"I have been experiencing compacted ear wax issues for five years now. My doctor has instructed me to use the drops, but that always makes matters worse. I kicked the QTip habit a couple years ago. Tried everything! Spoons were the best, but only helped so much. After using this product three days in a row, I can hear again!!!! I endorse this so much that I bought a second for the rest of the family (this one's mine). I can't recommend this to you enough if you have major issues as I did!"

-Larry Farber
Verdict
Wush Ear Cleaner is a safe earwax removal tool. There are enough positive reviews to confirm the effectiveness of this earwax removal device.
If you have used Wush Ear Cleaner, please share your experience with us in the comment section.
(See other products we have reviewed here.)