Is WikiTrader App a Scam of Legit? As days goes by, lots of scammers trying to make money by duping people keep entering the binary options market – all promising heaven and earth and painting wealth as something easy to get that will not remove any sweat from you. Just at the blink of an eye you would be transformed automatically into a millionaire just at no cost. This is ridiculous! this review contains proof that wikitrader software is indeed a scam.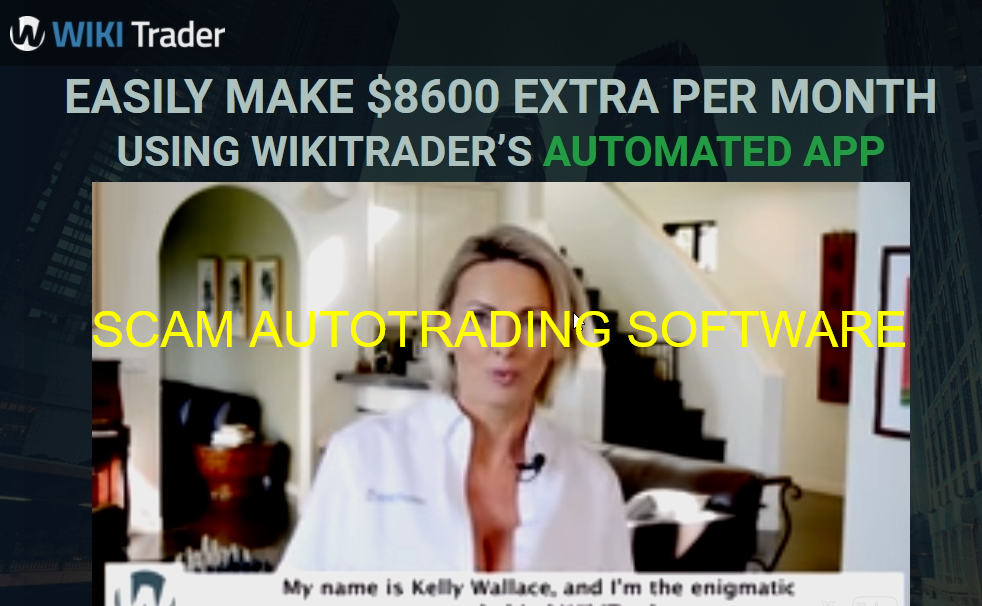 Founder of WikiTrader software
The brain behind this annoying scam of a software is poses as a lady known as Kelly Wallace claiming to be a partner in a venture capital firm. Funny enough, her name or company has never been heard anywhere except in this annoying video and their fake website. She is an actor hired to play this role, while the true scammers remain anonymous. She goes on to brag that the software makes use of artificial intelligence and smart learning in order to achieve a profitable return for its users, this is nothing but a deceptive story to draw more people and eventually steal your money.
Their major strategy
Crazy videos filled with lies and false testimonials seems to be the normal routine for scammers like wiki trader. Hired actors and stolen photos have been used to produce fake testimonials with the claim that the software was able fetch them huge amount of money within a short space of time. Unfortunately people who believed this trash ended up regretting their action when it had become too late. They guarantee traders that their software can accurately predict the market assuring them of a 100% success rate, stating that the word 'lose' does not exist in their dictionary at all. The truth remains that binary option trading does not guarantee profits at all time because no prediction can be 100% accurate due to the nature of the market yet a good number of traders still fall for this bullshit.
How does wikitrader work?
In the video, the so called Kelly wallace promises that using this software guarantees you a profit of at least $7,250 daily and a profit of $8600 by the end of the month, what a contradicting and miscalculated statement. How can you be making a profit of at least $7250 in a day and $8600 in a month, sounds crazy right?. also they claim that the software is just for free but in the actual sense, you cannot start trading unless you deposit $250 into the brokers account whom they will select for you, while you sit at home and watch see yourself become in millionaire in a couple of hours. The truth is that those brokers has are unlicensed, so once you find out you have been duped there is no way you can get back your money. These network of scammers and their brokers would have feasted on your money.
Review Verdict
WikiTrader app is a SCAM
Conclusion
Say no to WikiTrader app by the supposed Kelly Wallace. It has nothing to offer to you, instead it steals away the little you worked hard to earn.. Wikitrader is a confirmed scam.
Trading binary options could be very profitable, only if you use legitimate softwares and tools. Run away from scams, they will lose your investments and leave you devastated. Only use systems recommended by our team of professionals.

Thanks for reading our review of WikiTrader. Stay safe! Fight scammers!