Are you looking for cheaper alternatives to heat your house in the coming winter? Are you thinking of buying Valty Heater for this purpose? Read this Valty Heater review to know if this heater is the right product for you!
What Is Valty Heater?
Valty Heater is a portable heater that uses thermal radiation to heat up your home. The heater converts electrical energy into heat energy, and its heated coil begins to radiate the heat into the installation space, making the air molecules around warm enough to keep out the winter cold.
How It Works
The heater is plugged into a wall socket. After it has been turned on, the electrical charges from the socket is directed to the heating coil in the heater (similar process with your pressing iron or oven). The air molecules around the heater warm up, and the heat begins to spread across all air molecules in the room, keeping the room warm.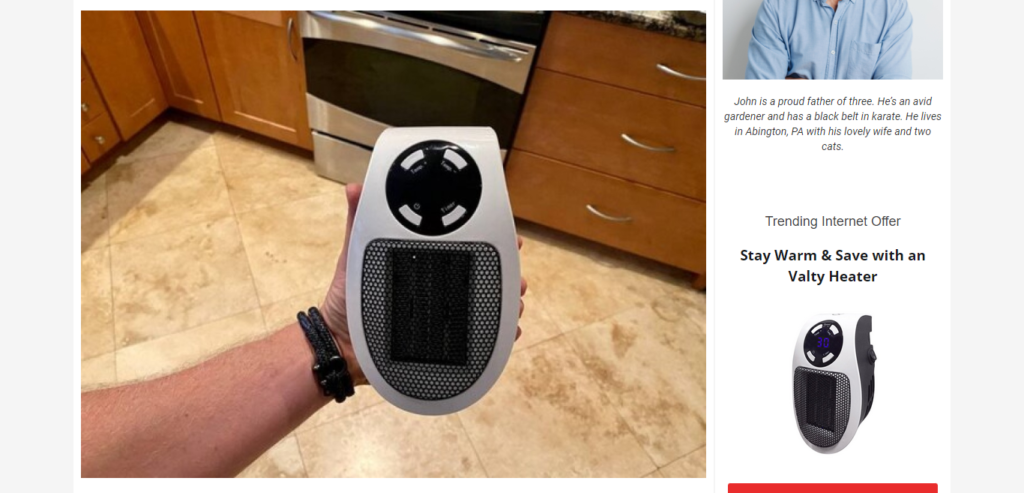 Do You Know You Could Get Back Your Money If You Have Been Scammed?   Great News! Click HERE to Get Started
Does Valty Heater Work?
The first thing I will say is Valty Heater is ideal for small spaces. For a small office and a small room, the heater performs as advertised. However, in larger spaces, the heat is not much felt. Perhaps installing a number of the heater in several points would help make it effective in larger spaces.
Also, the range is poor. When I put it in my room, I could only feel the heat when I stayed close to the heater. However, when I moved farther from it, I didn't feel warm anymore. I have searched the Internet for reviews by other users but have found none.
Pros
lightweight
okay for very small spaces
portable
easy to use
affordable
Cons
made from cheap material
not durable
not suitable for large rooms
no customer reviews online
Conclusion
Valty Heater is suitable for very small spaces but not great for large spaces. Also, there are cheaper and better performing heaters on Amazon.
If you've used Valty Heater, please share your experience with us in the comment section.
(See other products we have reviewed here.)