Are you trying to grow glowing nails? Can Ignovys give you strong and long nails? Read this Ignovys Nail Kit reviews to know if this nail product is worth your money.
What Is Ignovys Nail Kit
Ignovys Nail Kit is a nail extension kit for people who find it hard to grow their nails. It claims to be an at-home remedy and a cheaper solution to expensive salon manicures. A single package costs $24.95, and it contains the following items:
1 clip
1 nail file
1 painting brush
1 multi-purpose tool
1 revolutionary nail extension gel
1 nail mold box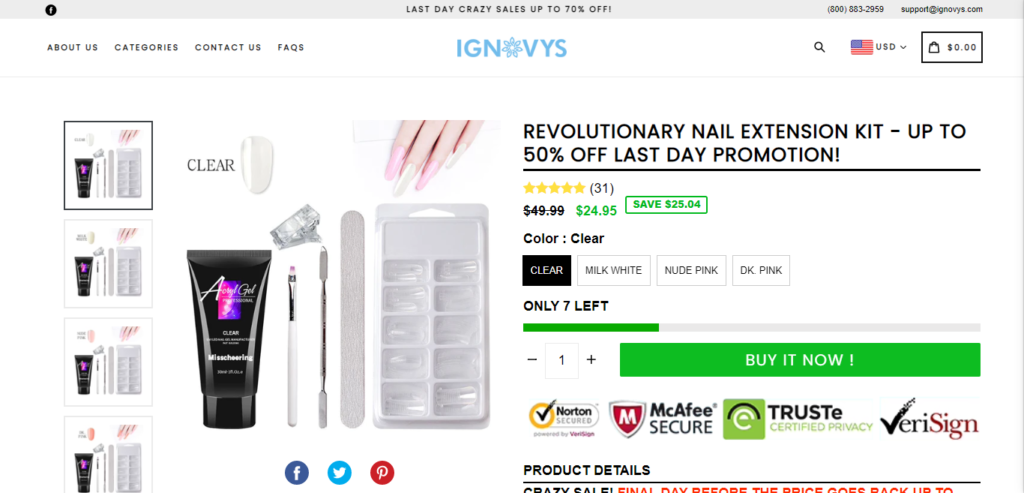 How It Works
Ignovys Kit contains the essential nail care tools. The clip and file are for keeping the nails trim and well-shaped, and the gel keeps the nails firm but flexible, as a way to avoid breakage.
How To Use
clip nails to an even height
use file to shape the nail tip
apply gel on nails
use paint brush to evenly distribute gel
allow gel to dry
Do You Know You Could Get Back Your Money If You Have Been Scammed?   Great News! Click HERE to Get Started
Does Ignovys Nail Kit Work?
Recently, there has been a proliferation of nail growth products on the internet, many of which promise to save you cost on manicure while giving you better nails. However, many of these products, as we have seen, turned out to be unreliable. People who used them complained of seeing no changes.
To know the authenticity of a product, we firstly look out for external customer reviews. For Ignovys Nail Kit, we found no reviews outside their website. Why we do not trust in-house reviews is that the product owner can manipulate it in a way that only positive reviews are shown. With external reviews, however, such manipulations cannot happen, so the reviews are more honest.
Another thing we look for is the quality of their contents. The contents used on their website are generic and can be found on any other unreliable nail product's page. Products that are genuine usually carry unique contents, and Ignovys Nail Kit does not have unique contents, so we can't trust that the product will be delivered or that they will work at all.
To learn more about how nail gels (and polygels) work, read this.
Conclusion
We are not sure about the efficacy of Ignovys. We advise that you buy from a more trusted brand.
There are many untrustworthy products (like Pore Renew and Niu Age Skin Serum) promising amazing results on the internet, but in the end, such products turned out to be fake. And that is why we conduct reviews such as this, to help our readers know if a product is genuine or not.
If you've used Ignovys Revolutionary Nail Extension Kit, please share your experience with us in the comment section.