FinCrowd App Scam Review! Investments could go bad and devastating when you are engaged with scam systems. Most of this scam system promising you millions overnight, go all out to make sure they convince you into investing with them. The truth of the matter is that, after your investment they disappear into thin air. Many a time there is no one you can lay hold on, because it has just been a web of deception unknowingly to you, right from the start.
Do you want to invest in binary options trading with the FinCrowd system. Then we strongly advice against that. You investment capital would be lost to this heinous scam. Read our review and see why.
Disturbing Things Found about the FinCrowd App Software
The alleged owner of the FinCrowd software is Sam Maxwell. A brief search about him yields no credible result. He is a paid actor and not the owner of this software. Scam softwares employ the services of actors, who claims to be the owner. The truth is that the scam personalities who truly  own this piece of shit are just behind the scene,they never want to get discovered.
The FinCrowd App is just another get-rich-quick schemes that promises to turn you a millionaire overnight without real evidence.In the sales pitch you would see people claiming to have made huge profits from it. One of them preposterously claimed to be earning $7,000 per day. Now if you are professional in binary option trading, you would know that its not possible. Don't be fooled, newbies tend to fall for such false claims because they are new to trading and don't know how binary trading works.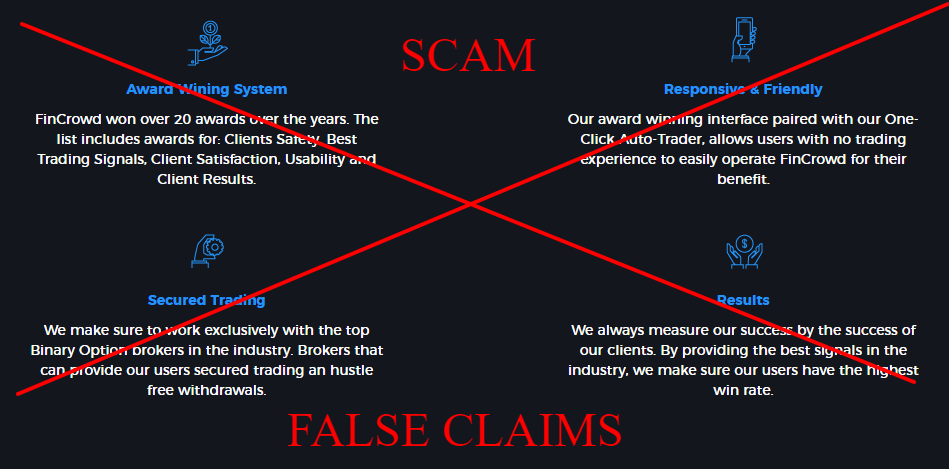 They claim to work with top binary options brokers in the industry, but no where in the website do we find the brokers mentioned. This software uses unregulated brokers that are not licensed, therefore your funds are not safe with them. The testimonials are all fakes and made up, those are actors that have been hired from fiverr.com. Moreover this software claims it has been available for years, when we looked it up we found out it was created on March 2017. Why would you want to trade with a system that is built on lies.
An important thing we also check in a software is the support system for customers. The support system is an avenue where you could interact with the software owner's customer care, through that your questions are answered and inquiries are granted. The Fin Crowd App offers no support system, no live-chats or numbers to call. This is indeed shady and its a huge red flag.
Summary
Trading binary options could be very profitable, only if you use legitimate softwares and tools. Run away from scams, they will lose your investments and leave you devastated. Only use systems recommended by our team of professionals.

Thanks for reading our review of FinCrowd App. Stay safe!