TradingwithJohn Review: this review is aimed at exposing binary options trade scammers like Trading with John software that goes about making empty promises that cannot be fulfilled, before taking a decision to trade with this software, you are advised to read through this review to see reasons why you should not get yourself involved in it.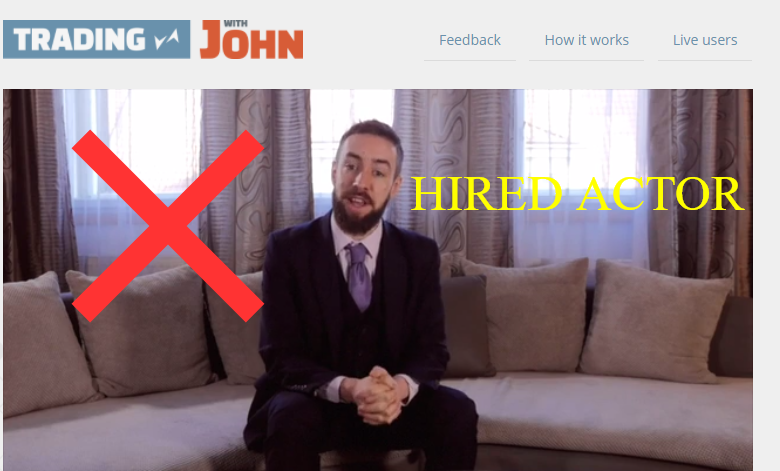 Who is the founder of Trading with John
The man disguising himself with the name John Miller is said to own this dubious software known as trading with John but facts from our research about this guy and his so called software confirms that there is obviously something fishy about this so called invention. He is just an actor paid to do the job while the true creators of this scam remains anonymous. Its typical of scammers, they hire actors to act out a script and give the false impression of ownership, while the true fraudsters are just masked.
How does trading with john work?
Throughout the video, there was no detailed explanation provided on how the software actually functions that enables it to make huge profits for its users, the only information they gave is that you should fill the form to create an account then deposit a sum of $250 to activate the software so that it can start trading, then just sit back and expect plenty money! But the truth is that we found out that once that $250 is being deposited into the account managed by an unlicensed broker that has been chosen for you, then kiss the money bye as it immediately goes to this fraudsters. The question is why then did they initially claim that it is all for free?
Their major strategy
You would agree with me that all scammers make use of similar strategies with which they use in duping innocent traders. This software is not an exception, their website introduces you to a video where john miller as he claims, promises huge some of money just by registering with his software which is offered for free. The slight difference between trading with john and other scams is that it offers 80% success rate unlike others that claim 100% guaranteed success but this does not in any way make trading with John a legitimate software.
Another striking concept they use is fake testimonials from alleged users who claim to have made money using this software that does not even exist. These people were just paid to give positive testimonies all in the bid to drag unsuspecting traders into this huge mess. Trading results indicating wins were also being displayed. this seem true but on a closer look you will discover that they are just falsified. they never existed and no strong evidence backs their claims up.
Another evidence to nail them down is the alleged endorsement of the software by a so called revealed success magazine whose aim is to promote individuals coming up with great invention through the internet by having an interview session with them but the shocking news we found from our research revealed that the magazine called revealed success does not exist. Its just a means used so as to make people believe the software has a strong back up and would never fail.
Review Verdict
Trading with John is a SCAM
Conclusion
This recent get rich quick scheme is indeed a scam that is not going to make any profit for you at all, rather it will take away your hard earned money. We advise you to stay clear.
Trading binary options could be very profitable, only if you use legitimate softwares and tools. Run away from scams, they will lose your investments and leave you devastated. Only use systems recommended by our team of professionals.

Thanks for reading our review of the Brit Method. Stay safe! Fight scammers!
Summary
Reviewer
Review Date
Reviewed Item
Author Rating