A new binary options scam is here again! It goes by the name Lucrosa software and uses similar concepts just like its fellow scammers. Lucrosa Incorporated pro video portrays the notion that making money is an easy thing, no stress, no costs involved and no need to be an expert in studying the financial markets. this sounds too good to be true yet many traders still end up victims of this evil scheme. we have made researches and brought out real facts to expose their evil acts and they are stated below. Read on!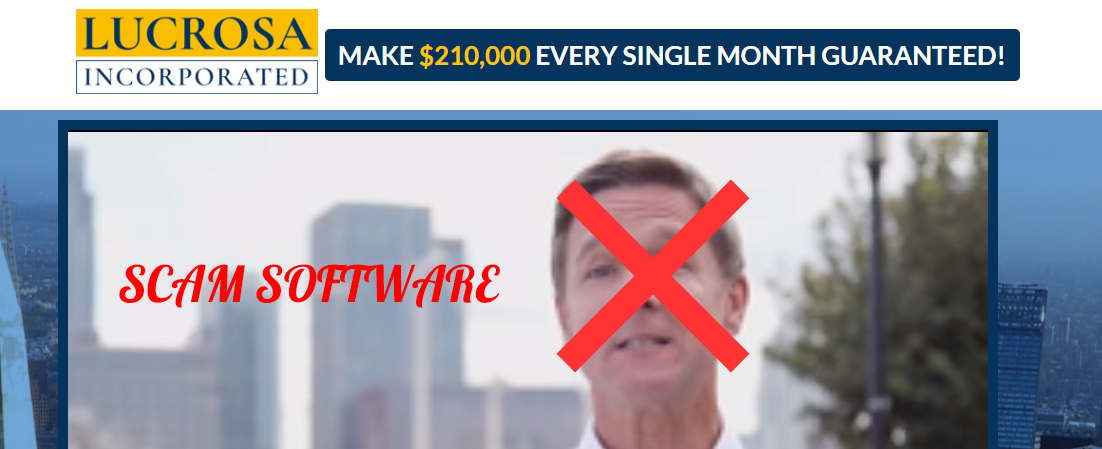 Founder of Lucrosa Incorporated software
John lucrosa, the supposed founder of lucrosa incorporated is just a fictitious entity covering up the true identity of the real owners of the company. He claims that his reputation has fast grown as he has now become a mentor in home based online trading that should suggest that he is a very popular figure right? but come to think of it, how come its not being recognised in any of the search engine or leading magazines like forbes, wall street magazine and so on just as he mentioned in his video? the truth is that  there is no information about him or his company anywhere. so where then is that trust, honesty and loyalty he claims to have earned over the years? He further claims that he was once a fund manager in london 4 years ago handling fund for people and making money for them. These are just fairy tales that never existed. it was just used as a means to buy people into thinking that their money is safe in the hands of this `good guy'
How does this Lucrosa pro work?
The so called john lucrosa in the video just kept feeding listeners with how good it is in making huge money without letting them know how the software actually operates in order to generate such amount of money. He just stated the step to take in order to start earning: enter your name with your best email address in a form that has been created, step 2: follow the link to access your lucrosa software ans finally, activate the software by setting it to GO. once this is done. you just relax and expect quick money. Stock pictures were also stolen from the internet, and false testimonials attached to it, just to rope you into this scam.

Lucrosa Strategy
Like similar scams around, lucrosa pro also makes uses of a video where John lucrosa starts off with offers and promises of making $7,000 in a day. introducing them to a software (that never looses a trade) absolutely free! this we all know can never happen in the binary options market.There is nothing like 100% success. he also offers to give $600 just for watching the video till the end. these are all lies! the $600 happens to be a bonus which is too difficult to complete. It is aimed at frustrating traders who have already committed their resources as any attempt to withdraw their money once they find out, becomes impossible. his visits to andrew and patricia in that video is also a strategy to make people actually believe it is authentic. he coaxes intending traders by telling them that there are just limited slots available so they should act fast if they want to enjoy this quick money as the opportunity closes soon.
Review Verdict
LUCROSA is a SCAM SOFTWARE
Conclusion
Lucrosa app is scam. run away from it before it becomes too late. all these sweet promises that looks real isn't real at all.say no to lucrosa, it is not legit.
Trading binary options could be very profitable, only if you use legitimate softwares and tools. Run away from scams, they will lose your investments and leave you devastated. Only use systems recommended by our team of professionals. Click HERE

Thanks for reading our review of Lucrosa App. Stay safe! Fight scammers!
Summary
Reviewer
Review Date
Reviewed Item
Author Rating