Searching for reviews on Sigmagic brush cleaner? Read this to know if Sigma's makeup residue cleaner is as effective as it claims.
What Is Sigmagic Scrub Brush Cleaner
Sigmagic Brush Cleaner is one of the products of Sigma, the American beauty and makeup company. One sigmagic scrub costs $25. In the US, they promise free shipping for orders over $50, and worldwide, they promise free shipping for orders over $150.
Sigma is located on sigmabeauty.com, and their contact information is: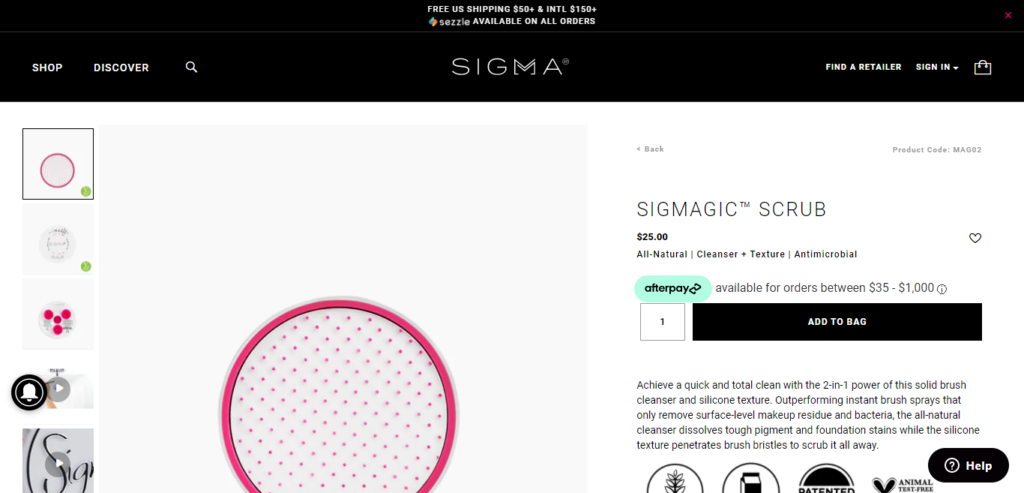 How It Works
To remove makeup residue on skin, some people use wipes. However, the wipes fail to completely clean the face, especially the pores where, because of the pressure from the wipes, particles can clog. Brush spray is another product people use, but it only removes surface-level makeup residue.
Sigmagic scrub brush cleaner offers a 2-in-1 formula with its solid brush cleanser and silicone texture. Its antimicrobial cleanser dissolves tough makeup pigments, removing bacteria, and its silicone texture, with its brush bristles, penetrates to scrub away all makeup residues.
Key Ingredients:
30% or more of soap
cocoa nucifera oil
elaeis fruit oil
water
sodium hydroxide
potassium hydroxide.
Sigmagic scrub brush cleaner is fragrance free, parabens free, sulfates free, and phthalates free.
How To Use
secure suction cups in sink
swirl wet brush on texture to lather
rinse well with warm water
repeat as needed
Do You Know You Could Get Back Your Money If You Have Been Scammed?   Great News! Click HERE to Get Started
What We Found About Sigmagic Scrub Cleaner
When Dr. Simone Xavier and his partner Rene Xavier Filho came together to start Sigma, they had one thing in mind: excellence. Since then, they've released a ton of makeup products that met good reception. This can be seen in the number of followers and engagement on Sigma's social media handles.
For this product, the Sigmagic brush cleaner, because it is relatively new, many are skeptical about its effectiveness. However, that shouldn't be the case. On Amazon, where sigmagic scrub brush cleaner has 108 global ratings, it scored 4.6 out of 5 stars. This means the product is as effective as the manufacturers claimed.
Conclusion
Sigmagic scrub brush cleaner is authentic. Nonetheless, when buying, ensure you buy from the right source, as there are many scam stores out there impersonating other companies and selling knock-off products.
If you have used this product, please share your experience with us in the comment section.