Is Shavebug device genuine? If you have been looking for a cheaper hair removal alternative to painful waxing and expensive lasers, Shavebug is not the device you need. Read this review to know why Shave Bug is not a legit hair removal tool.
What Is Shavebug?
Shavebug is a hair removal product that promises to be painless and non toxic. It can also exfoliate dead skin cells, giving your skin a smooth and shiny finish. There are people who want a silky smooth skin, free from any hair, and Shave Bug hair removal offers to do just that.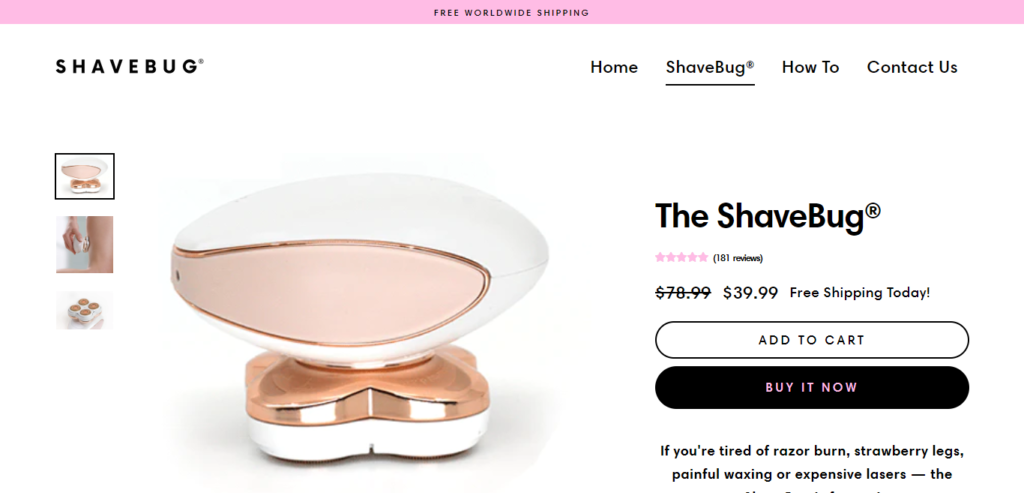 How It Works
Some people grow more hair than they need, and this could be a function of genetics. So, every now and then, they would need to shave. However, using razor can cause burns and injuries, and the other methods, which are waxing and laser procedure, are expensive.
Recently, there has been a rise in the number of painless hair removal products on the internet, which are cheaper and offer to remove hair as neatly as a laser device would. Nonetheless, some of these hair removal products are not genuine.
To further understand how at-home hair removal devices work, check out this article on Cleveland Clinic.
Shavebug Pros
eco-friendly and reusable
painless and non toxic
cheap
exfoliates dead skin cells
Shavebug Cons
no genuine reviews to support claims
product not approved by any regulatory body
Do You Know You Could Get Back Your Money If You Have Been Scammed?   Great News! Click HERE to Get Started
Does Shavebug Work?
In our reviews, what we always look out for are these:
the authenticity of the product's website contents
what customers are saying about the product
Most fraudulent products always use plagiarized information, and they usually do not have reviews outside their own store.
For Shave Bug, the contents used on their website are the same as that on other hair removal products' websites. Also, there no customer reviews of Shavebug outside their website.
Like Bleame and Glory Shaver, two hair removal products with no external reviews, Shave bug can also be a scam hair removal product that either does not ship to customers who buy or that does not meet the attractive promises it offers.
Verdict
Shavebug is not a legit hair remover device. There are no positive reviews outside their website to give the hair removal device credibility.
If you have used Shave Bug or attempted to do so, and you have contradictory opinions, please share your experience with us in the comment section.