Are you looking for Medix 5.5 vitamin c cream review? Read this to know if Medix 5.5 vitamin c serum is what you need for a smoother and brighter skin.
What Is Medix 5.5?
Medix 5.5, located on www.medix55.com, is a skincare online store selling products that promise to give you glowing skin. One of their products, Medix 5.5 vitamin c serum, has been trending lately on the internet. A single bottle of it costs $14.77, and it is sold on Medix 5.5's website and other online stores such as Amazon.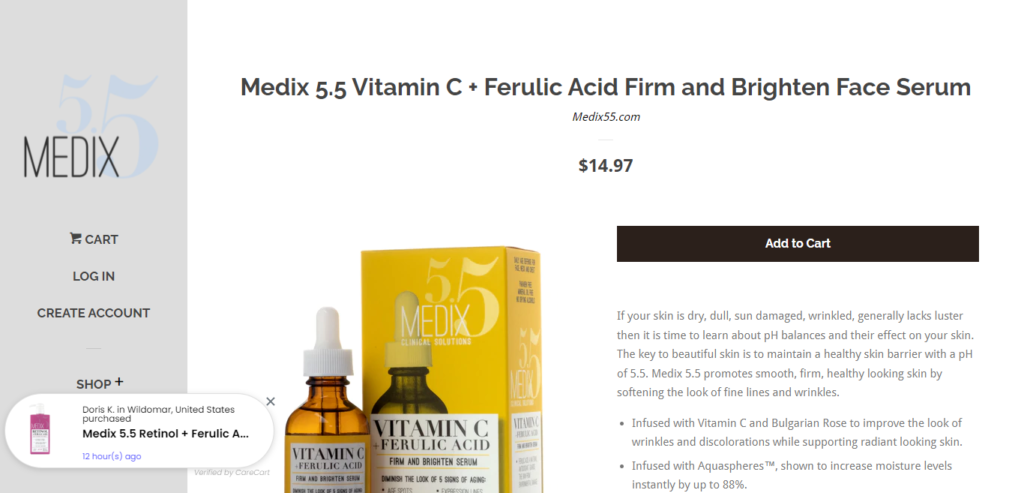 How Does Medix 5.5 C Vitamin C Work?
Medix 5.5 vitamin serum works on dry skin, dull skin, sun-damaged and wrinkled skin. What it does is to balance the pH level of the skin, regulating it to a 5.5 level, which is the healthy amount for a healthy skin. This way, Medix vitamin serum will remove wrinkles and discolorations, leaving a radiant glow on your skin.
In addition, Medix vitamin cream contains Aquaspheres, and this increases moisture levels by 88%. It is free from the following: parabens, drying alcohols, and mineral oil.
Medix 5.5 Vitamin Serum will do the following:
improve skin elasticity, health, and vigor
stimulate collagen growth
lock in moisture
fight damage and even skin tone
Key Ingredients:
water
glycerin
ferulic acid
aloe vera
hyaluronic acid
apple fruit extract
soluble collagen
How To Use
wash face with warm water
dry with towel
apply serum on skin
Do You Know You Could Get Back Your Money If You Have Been Scammed?   Great News! Click HERE to Get Started
What We Found About Medix 5.5 Vitamin C Serum
Every now and then, a product takes the internet by storm, with its ads everywhere, promising mouthwatering features and results. Sometimes, such products with promises that are too good to be true have turned out to be scams.
In our reviews, what we always look out for is the visibility of the owner of the product, the authenticity of their contents. This is because most fraudulent products have no visible owner and always use plagiarized information.
Medix 5.5 has unique contents. The information on their about page and the copy for their products are authentic, and that's a good sign.
Another thing we look out for are customer reviews. On Amazon, where this skincare product had a rating of 4.3 out of 5, a customer wrote:
"I've been using this product for the last few weeks and have noticed such a positive difference in my face! It has a shiny, bright glow to it and looks fresh and hydrated. I'm 51 yrs old and looking for any products that make my skin look good and I'm 100% pleased with this product! Will definitely order again!"
Verdict
There are a healthy number of positive customer reviews to confirm the authenticity of this product. While there were a few bad reviews, a large number of customers were satisfied with this skincare product.
There are many untrustworthy skincare products on the internet, such as Anavale, promising top-notch results. It is common to come across e-commerce stores offering these products at appetizing prices. But, in the end, such products usually turn out to be fake.
Most people attracted by these "too good to be true" features from these stores have bought serums of their liking but received something different from what they had ordered, and of poor quality.
It is unfair to fall victim to these fraudsters and lose the money you earned from honest work. Fact-checking should be a priority before you buy anything online. And that is why we conduct reviews such as this, to help our readers know if a product is genuine or not.
If you've used Medix 5.5 Vitamin C Serum, please share your experience with us in the comment section.