Did you receive any subscription email from Letterboxd? Have you been wondering what it is all about? Before you click on any link, read this review to know more about the latest Letterboxd email scam.
Scammers are coming up with several ways to defraud people on a daily basis. One of the ways they do this by sending alarming messages to people and prompting them to release vital information or even gaining access to their information without their knowledge. People are therefore, advised to carry out due diligence before giving out any information.
Table of Contents
Do You Know You Could Get Back Your Money If You Have Been Scammed?   Great News! Click HERE to Get Started
Is Letterboxd real?
Letterboxd really exist. It is a social network platform where people share their opinion about films. It was founded in 2011 by Mathew Buchanan and Karl Von Randow. Letterboxd.com offers three categories of account which are free, Pro and Patron account. The Pro account charges $19 per year while a subscription fee of $49 is charged annually for the Patron account.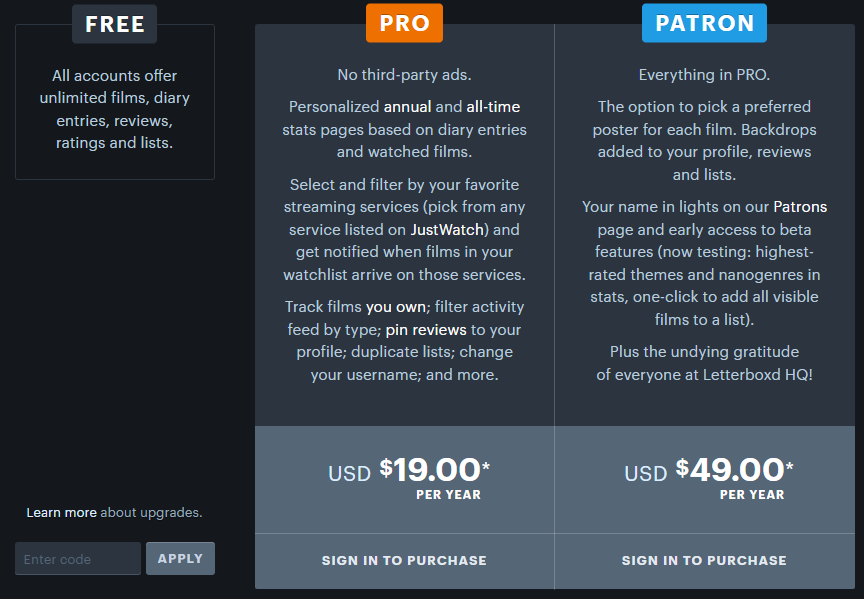 What is the letterboxd email scam about?
This is an email from sent by scammers disguising themselves as Letterboxd. The mail says that you have successfully subscribed to watch movies and $49 will be deducted from the receiver's PayPal account after the 14 days free trial expires. It also provides a link for cancellation of subscription to avoid been charged. Their aim is to instill fear in people so that they will click on the link provided thinking it is real.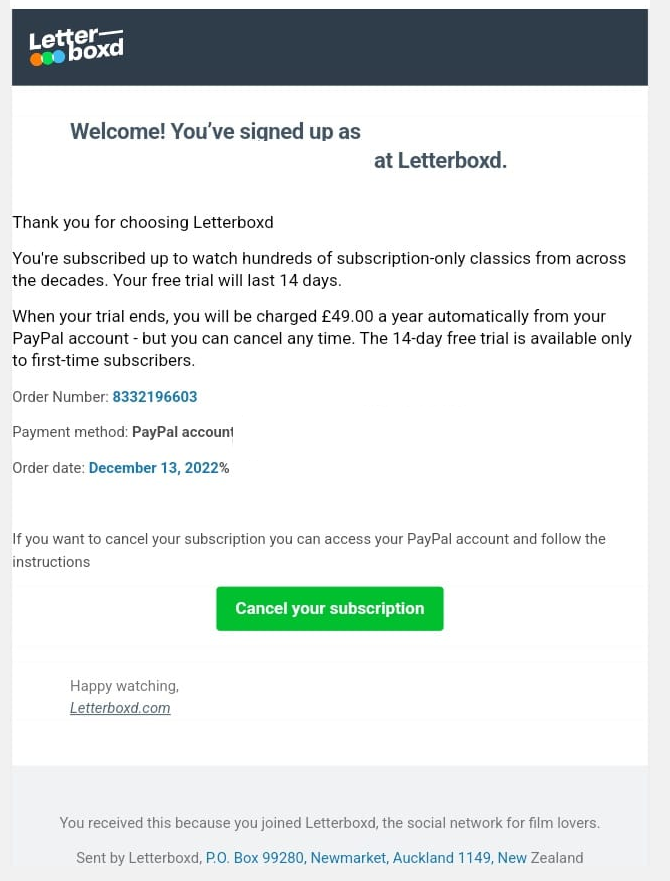 How does the Letterboxd email scam work?
Cyber criminals employ different strategies just to appear genuine. This includes stealing official logos from the company, sending fake order numbers and renewal date as well as providing links to malicious sites. The victims are usually in a haste to click on the link so as to stop the charges. As soon as the recipient clicks on the link, it redirects to to a page that requires you to provide your PayPal password and other financial details.
How to avoid being scammed
In order not to be a victim of the Letterboxd email scam, follow these instruction:
Do not click on any link or download attachment from an unknown sender.
Check for errors in the email address as well as the content. This might be an indication of a fraudulent activity
Do not try calling any phone number provided. You can reach out to letterboxd using any other means to be sure the email is coming from them.
Forward suspicious email to

[email protected]

.
How to cancel your Letterboxd subscription
In order to successfully cancel your letterbox Subcription, follow these steps.
Log in to your Letterboxd account
Click on the "Subscription" button
Choose the Letterboxd subscription you wish to cancel and click on the "Cancel Subscription" option.
Conclusion
Rather than being worried and trying to contact them or clicking on the subscription cancellation link, the best thing to do is to ignore such messages and block the sender from getting across to you next time.