Are you looking for cheaper alternatives to heat your house in the coming winter? Can Keilini Heater give you instant warmth? Read this Keilini portable heater review to know if this heater is the right product for you!
What Is Keilini Heater?
Keilini Heater claims to be an efficient and portable heater that uses PTC heating technology to quickly warm up your room in 3 seconds, running at full blast for as long as you need it to. It comes with a max power of 500watts and can cut down your power bill by 30%, when compared to using traditional home heaters.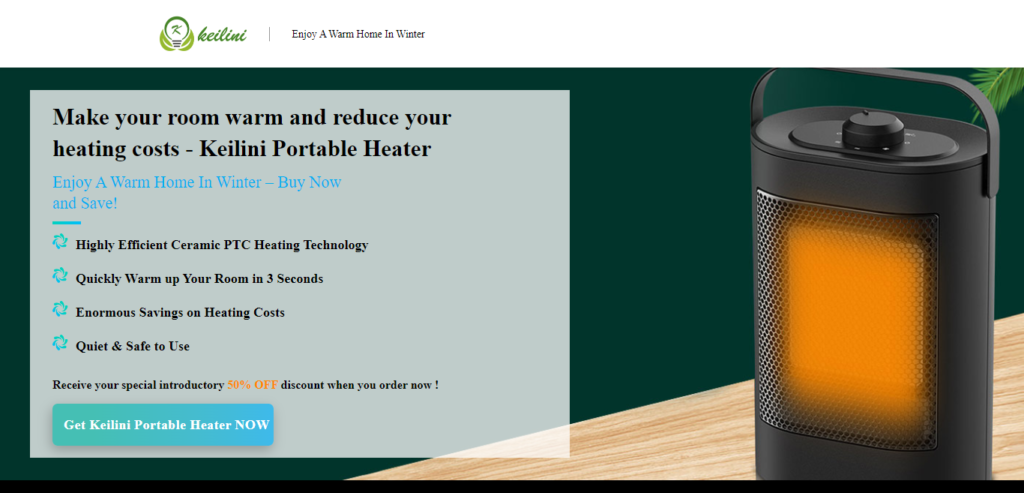 Do You Know You Could Get Back Your Money If You Have Been Scammed?   Great News! Click HERE to Get Started
Does Keilini Heater Work?
The first thing I will say is Keilini heater is a cheap and overpriced heater that does not meet up to its promises. It would have been better if this product was advertised as a heater for a night tent because it has a very poor range. The material is made of cheap plastic and despite leaving it on for hours, its heat did not spread throughout my living room.
Also, I searched for reviews from other customers online to be sure the fault wasn't from the particular Keilini heater I bought. I found only negative reviews on Trustpilot. For instance, a user wrote this:
"Lol I'm laughing because this product is funny! Got to be the worst type of heater we have ever used! Does not hear the room unless your are in a tiny box, maybe the size of a cereal box, don't be fooled by the click bait adverts, it's awful"
Pros
lightweight
okay for very small spaces
portable
easy to use
Cons
made from cheap material
not durable
not suitable for large rooms
overpriced
Conclusion
Keilini Heater is not great for large spaces. Also, cheaper and better performing heaters can be found on Amazon.
If you've used Keilini Heater, please share your experience with us in the comment section.
(See other products we have reviewed here.)