Are you looking for a hair product to strengthen your hair? Do you need a healthy scalp and fast growing hair?
Read this to know if this Inala hair product can give you the hair texture you seek for.
What Is Inala Hair Power Potion?
Inala power potion is one of the products of Shop Inala, an online hair products store founded by La La Anthony. In addition to this, they produce crown polisher, strand smoother – products that give your scalp the right glow and your hair the appropriate texture. They promise free shipping for orders over $75.
The store is located on www.shopinala.com. And their contact information is: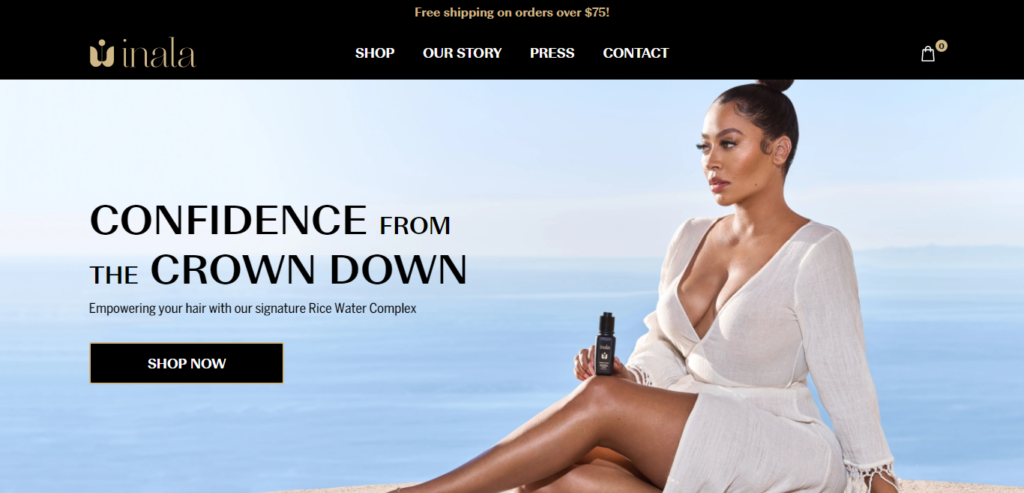 How Inala Hair Power Potion Works
Inala hair power potion is medically tested to be safe on skin, and it does the following:
strengthens hair
encourages growth
stimulates scalp
hydrates hair
reduces hair breakage
A bottle of Inala Power Potion goes for $55. The key ingredients in this product are:
rice water
biotin
arginine
serine
soy amino acid
In addition, Inala Power Potion is oil-free, paraben-free, silicone-free, and phthalate-free
How To Use Inala Hair
Inala hair power potion dropper is designed to dispense 10 drops at a time. One press of the button is enough for edges or targeting specific areas, while two button presses can cover both the edges and the entire scalp.
So, apply only the required amount of drops to the edges and thinning areas of your scalp. Then, with your fingertips, massage the formula into your scalp. For best results, apply twice daily and you will see changes in 4 – 6 weeks.
A bottle of the Inala hair power potion can last for 60 days. And it can be used directly on your scalp, in braids and under weaves. Note, using more drops than necessary will not fasten the result.
Do You Know You Could Get Back Your Money If You Have Been Scammed?   Great News! Click HERE to Get Started
What We Found About Inala Hair!
During the pandemic, La La Anthony experimented with rice water, the milky white water gotten from rinsing or boiling rice, and it improved her hair growth and scalp health. She then teamed with beauty experts to commercialize the idea, and make this formula available to others. Rice water has been used to treat hair in ancient Asian cultures, and the result is always tremendous.
Should You Trust Inala Hair Power Potion?
Usually, for scam products, you'll find over a thousand false reviews on their website. But Inala hair power potion has none, so far, seeing it's still new. They have a working email address and active Facebook, Twitter, and Instagram handles.
Also, their founder is not hidden. She's a known TV personality whose information is easy to find online. On her social handles, you would notice that shopinala's website appears on her profiles.
Conclusion
Inala Hair Power Potion is safe to use. But it's always good advice to know your hair type and the specific issue you intend to resolve before using.
If you have used this product, please share your experience with us in the comment section.