HB Swiss Scam Review: HB Swiss by Hans Berger is a binary options automated trading software. This system looked promising, but we found out it is no different from several scams we have seen. Therefore, we advice our readers to go through this review in order not to make the mistake of registering for it.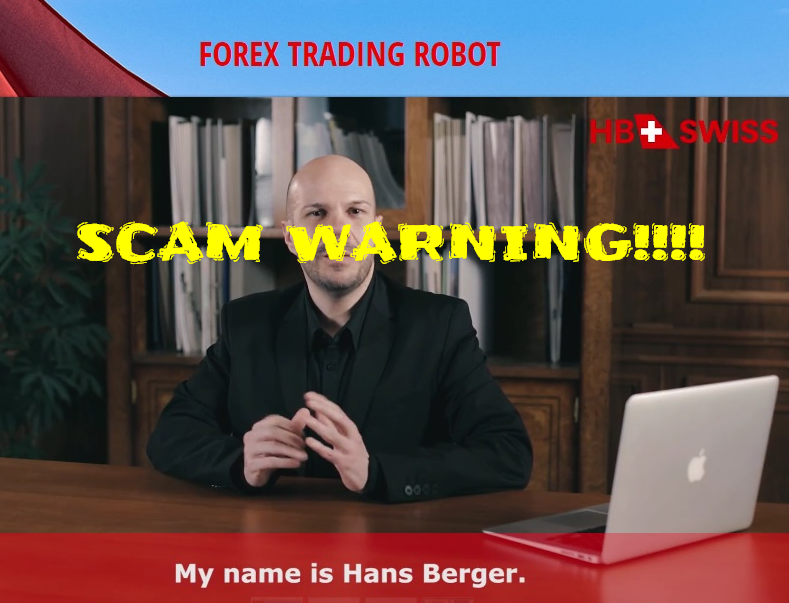 owner of HBSwiss
Hans berger is the alleged owner of HBSwiss
HB Swiss Scam Strategy Exposed

The so called developer of this software, Hans Berger, is just a paid actor, hired to feed you lies. He is not a binary options trader. So, all the stories told about him were just fabricated.(See evidence below from the screenshot of the HBSwiss risk disclosure)

So. How then can we trust such the HBSwiss software ?
He claims that the software has a win-rate of over 85% and is able to make a profit of £50,000. This huge profit is certainly impossible to be realised in a day. So their claim is obviously bogus.
All the testimonials they give out are all fake. They simply used stock photos and attached a written testimonial to them. This is aimed at decieving traders into believing that the software is really geniune.
Even the live trade of their users that was being displayed gives us evidence of a foul play. It reveals that trades were carried out weekends. It is a well known fact that the markets are usually closed on weekends. so how where they able to carry out their trade. This is indeed suspscious!!
The software they use has been discovered to be the same software that other scams uses. No wonder it places losing trades.
The major aim of these scammers is just to get you deposit your money with their affiliated brokers. As soon as this is done, the money is being shared between these scammers and their brokers leaving you empty handed and there is no hope for a refund since these brokers are not regulated.
P.S Only deposit your money to trade with a trusted system that will give you good returns.
Review Verdict:
HB Swiss is a SCAM.
Conclusion
HB+ Swiss robot is a dubious scam. You will end up losing your hard earned money if you decide to listen to their bogus promises.
Trading binary options could be very profitable, only if you use legitimate softwares and tools. Run away from scams, they will lose your investments and leave you devastated. Only use systems recommended by our team of professionals. 
Thanks for reading our review of HB Swiss system. Stay safe! Fight scammers
Summary
Reviewer
Review Date
Reviewed Item
Author Rating