Fintech Limited Review: It is now a well know fact that millions of money have been lost on daily basis by binary options traders who choose to believe scammers who eventually made a way with their money. Fintech limited software is not an exception to the ever increasing list of binary options scammers.
See what we found out about them in the course of our review
The so called founder of Fintech limited
Daniel Roberts, the alleged owner of this company is nothing but a fraudster hiding himself under the umbrella of an already existing company fintech –  but the surprising thing about it is that this fintech it is not in anyway involved in binary options trading at all. So you can see that Daniel Roberts fintech limited and the real fintech has nothing in common.
Furthermore, he claims that their automated software (which he created just by analysing financial data and setting up algorithms) was founded in 2013 but we just found out that the company he claim to have been running for over 3 years was only registered in 2016,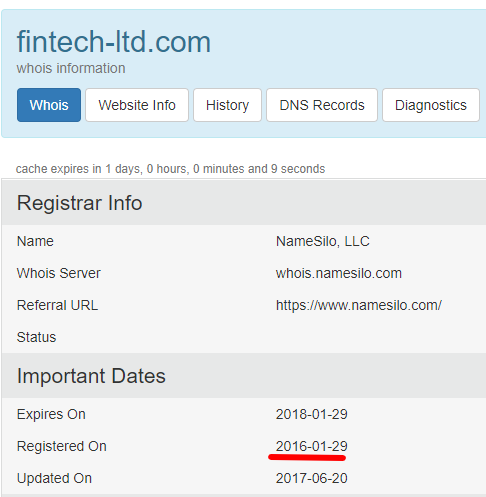 Now you can see how unreliable they are. He is just feeding traders with false information.
Their major strategy
the most common strategy that these scammers use is creating video with hired actors whose jobs are  to give false testimony of how they made huge money in a day just by using this software. These scammers also get pictures of people from the internet and attach a fake testimonial to them so that any intending trader that comes across them will think they are actually legitimate claims

Evidence  below, that the so-called investors are actors  hired from fiverr.com to sell you lies. Below is one of them advertising his offer of giving false testimonials on fiverr.com

How does fintech limited work?
Daniel roberts promises that by using his automated software you can make up to $2,500 in a day. here the trader is linked to an unregistered broker who trades with their huge amount of money claiming to always win and never lose any trade. these are all lies! no player in the binary options market has ever attained a 100% win. it is impossible. Daniel Roberts is just out to steal your money. We have seen lots of complaints from traders that have been scammed through Fintech-ltd software.
Review Verdict
Fintech-Ltd is a SCAM
Conclusion
Signing up with fintech limited is a very wrong decision to take, because you will end up losing your hard earned money. No legitimate company earning huge amounts for its traders hides their true identity from the public, only fraudsters do. So beware and stay clear for your own benefit.
Trading binary options could be very profitable, only if you use legitimate softwares and tools. Run away from scams, they will lose your investments and leave you devastated. Only use systems recommended by our team of professionals.

Thanks for reading our review of the Fintech Limited. Stay safe! Fight scammers!