Bitqt.app Reviews: Is Bitqt.app to be trusted? Or is Bitqt app unreliable? Because we are concerned about the financial safety of our readers, we did extensive research and made a review on Bitqt BQ. Please read our review before you decide if you should throw your time, expectation, and money into this trading platform.
What Is Bitqt.app?
Bitqt is an automated trading platform in the currencies market. They claim to own software that generates high quality signals for immediate execution, and, because of their high accuracy level, promise a 99.4% chance of making profit from their signals, making Bitqt the best trading platform in the world. Sounds enticing, right?
Do You Know You Could Get Back Your Money If You Have Been Scammed?   Great News! Click HERE to Get Started
Their contact information is:
Email: [email protected]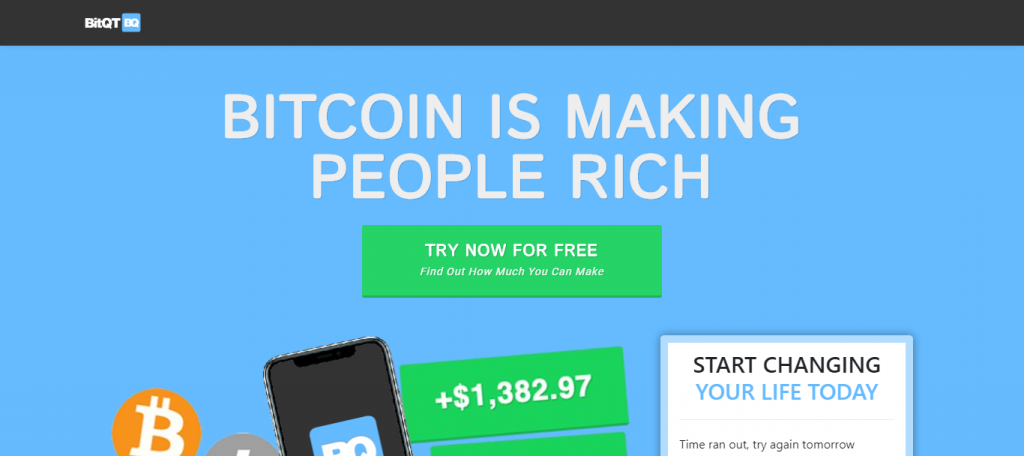 How Does Bitqt.app Work?
Bitqt claims to be 100% secure, promising their users a minimum earning of $1,100 daily. Their trading methods, as they claim, are quite flexible, and in three easy steps you can trade with them:
Open account.
Deposit fund in account.
Set system to automated mode and relax.
BitqtBq claims that some of their members earned their first million within 61 days of trading. The supposed assurance and profitability of trading with Bitqt would be attractive to any trader. But is Bitqt.app to be trusted?
What We Found about Bitqt.app!
In the wake of the COVID-19 pandemic and the enforced lockdowns that followed, most people have been conditioned to work from home. Earning from the comfort of one's home is more attractive now than ever. And scammers have gone to work, devising fraudulent work-from-home solutions and swindling unsuspecting victims.
The things we found out about Bitqt which made us suspect Bitqt.app should be an unreliable trading platform are:
Their certifications and testimonials are unverified and therefore could be false, a way to win the trust of unsuspecting traders.
We found no information on the company or the people behind Bitqt. This is a red flag, as there is no one to hold accountable should things go south.
Bitqt promises to provide long term trading plans but we discovered that their domain is a short life expectancy domain and could go offline at any moment.
Their promise of 99.4% trading accuracy is unattainable, and therefore false.
Verdict!
Bitqt.app, despite seeming reliable, could be a scam. There is always a risk factor in any trading, and also a possibility of loss. False assurances of stable profit and no loss is enough reason to be suspicious of them.
There are many untrustworthy trading websites on the internet promising get rich quick options. Most people attracted by these "too good to be true" ROIs from these sites have invested their money expecting profit but lost everything in the end. You do not have to become one of them to learn from their experience. It is unfair to fall victim to fraud and lose the money you earned from honest work. Fact checking should be a priority before you throw in money into any online trading scheme.
TOP RECOMMENDATION
SEARCHING FOR A LEGIT INVESTMENT PLATFORM? Look no further, our team of professionals have tried many platforms and are delighted to recommend a system that actually works.  Click HERE to Start Profiting