Profitfarmers.com Reviews: Is Profitfarmers.com to be trusted? Or is Profitfarmers.com unreliable? Because we are concerned about the financial safety of our readers, we did extensive research and made a review on Profitfarmers. Please read our review before you decide if you should throw your time, expectation, and money into this copy-trading platform.
What Is Profitfarmers.com?
Profitfarmers is an automated trading platform in the cryptocurrency markets, and they aim to, in their words, "bring the chance for hassle-free, profitable trading to everyone, no matter your experience".
Profit Farmers generates trading signals for users and offer 100% refund if their system doesn't deliver a 60% signal win rate within your first 30 days of trading.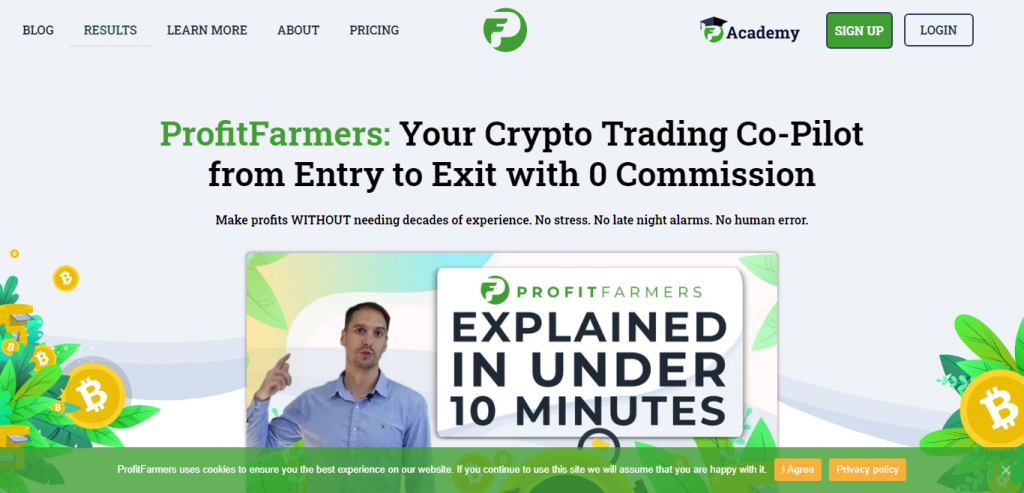 How Does Profitfarmers.com Work?
Copy-trading technology is not new to the trading markets. Platforms like EToro use the same system, too, where traders follow expert investors, copy their trades, relax and watch for profits, or losses. What copy-trading does is that it makes it easier for beginner traders to make good and experienced trades.
Do You Know You Could Get Back Your Money If You Have Been Scammed?   Great News! Click HERE to Get Started
Profitfarmers, with their system, feeds you trading signals with high chances of turning in profits, and you, the user, set the trade plan on your end and let it monitor itself. As written on their website, Profitfarmers aims to give users easy and profitable trading by removing the years of learning required, time constraints and sleepless nights. And this is achieved through:
Copy Experts and Algorithms
Semi-Automate the trading
Let the system monitor things 24/7
SEARCHING FOR A LEGIT INVESTMENT PLATFORM? Look no further, our team of professionals have tried many platforms and are delighted to recommend a system that actually works.  Click HERE to Start Profiting
What We Found about Profitfarmers.com!
Profit Farmers was birthed on November 2018. It was founded by Matthew Tansley, and he has a profile on LinkedIn.
Trades through Profitfarmers take place on Binance Exchange. The trading signals from Profitfarmer are automated through API integration with Binance. And this keeps the users in full control of their funds because profits go directly into the users' wallets. So, Profitfarmers acts as a distant middleman.
For their trading signals and copy trades, they have three pricing plans:
$299 per month for monthly plan.
$200 per month for quarterly plan.
$167 per month for yearly plan.
Verdict!
We have not found anything implicating about Profitfarmers.com at the moment, however, we are still keeping our eyes on it and not recommending it at the moment. Furthermore, their pricing is expensive. You also have to note that there is always a risk factor in any trading, and also a possibility of loss. You should take with a pinch of salt assurances of stable profit and no loss.
There are many untrustworthy trading websites on the internet promising get rich quick options. Most people attracted by these "too good to be true" ROIs from these sites have invested their money expecting profit but lost everything in the end. You do not have to become one of them to learn from their experience. It is unfair to fall victim to fraud and lose the money you earned from honest work. Fact checking should be a priority before you throw in money into any online trading scheme. You can visit a recommended trusted platform.