Are you looking for AquaCare Shower reviews? Read this to know if AquaCare is the high-powered germ shield shower it promises to be.
What Is AquaCare?
AquaCare is a high-pressure handwasher with antimicrobial nozzles. It doubles as a built-in tub and tile power wash, and is good for showering, cleaning, and pet care. AquaCare comes in 3 colors: chrome, nickel, and bronze.
Many customers would hope to get the features from AquaCare as seen on TV. This review will be their guide.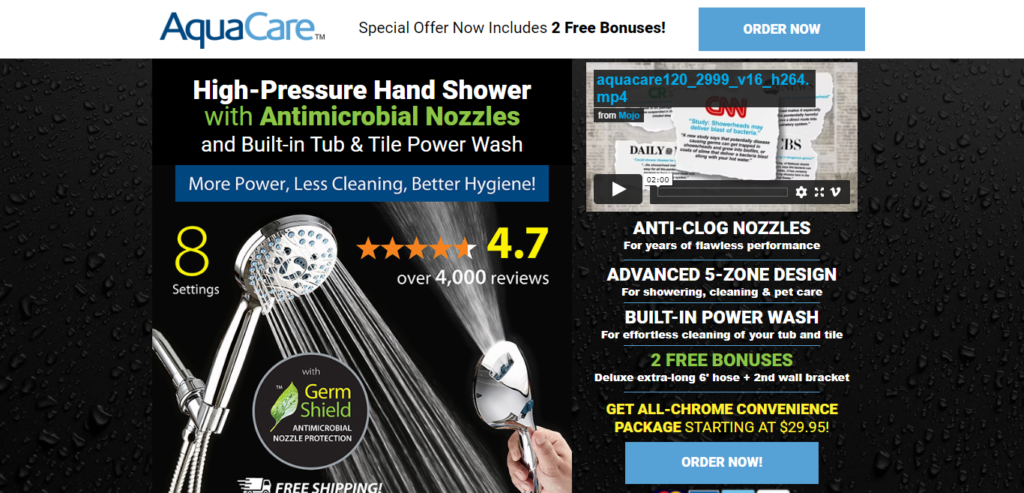 How Does AquaCare Work?
AquaCare comes with 8 high-pressure water flow settings that can be used as:
power rain
pulsating massage
rain and massage
rain and mist
gentle mist
pause mode
wide fan spray
target point jet
These 8 different modes will allow you perform different functions with AquaCare shower head. Also, AquaCare's antimicrobial nozzles keep germs and clogs away from the nozzle lines, ensuring your shower hygiene stays healthy.
Specifications:
6′ hose
2-mode power wash
8 high-pressure water flow settings
3 color finishes
Do You Know You Could Get Back Your Money If You Have Been Scammed?   Great News! Click HERE to Get Started
What We Found About AquaCare
Every now and then, a product takes the internet by storm, with its ads everywhere, promising mouthwatering features and results. Sometimes, such products with promises that are too good to be true have turned out to be scams.
In our reviews, what we always look out for is the visibility of the owner of the product, the authenticity of their contents. This is because most fraudulent products have no visible owner and always use plagiarized information.
For AquaCare, Interlink Products is the manufacturer of the product. And they are a legitimate company.
Also, another thing we look out for are customer reviews. In our reviews, we tend to trust reviews from external sources as they are free from the influence of those who own the product. So, we found what customers are saying about AquaCare on Amazon and Bed Bath and Beyond (BB&B).
A customer wrote this on Amazon:
This product is absolutely fabulous!! Especially as I at 68 am shrinking 😄it's so nice to feel really clean and I just love the cleaning spray function!!
Excellent product , great price too

–susan sainato
A customer wrote this on BB&B:
Needed a new shower head and a wall holder. Both are working really well. My husband was able to install easily.

–Karen
Verdict
AquaCare GermShield Handwasher is a legit product. There are a lot of positive customer reviews to confirm their authenticity.
There are many untrustworthy products on the internet promising top-notch features. It is common to come across e-commerce retailers offering these products at appetizing prices. But, in the end, such products usually turn out to be fake, such as Anavale.
Most people attracted by these "too good to be true" features have bought devices of their liking but received something different from what they had ordered, and of poor quality.
It is unfair to fall victim to these fraudsters and lose the money you earned from honest work. Fact-checking should be a priority before you buy anything online. And that is why we conduct reviews such as this, to help our readers know if a product is genuine or not.
If you've used AquaCare, please share your experience with us in the comment section.