Profit Ball Review: Before taking any decision, we advise you to make sure you go through this review. The  reasons why Profitball trading sofware that claims to combine sports analysis with binary trading, has been labelled a scam have been revealed in this review.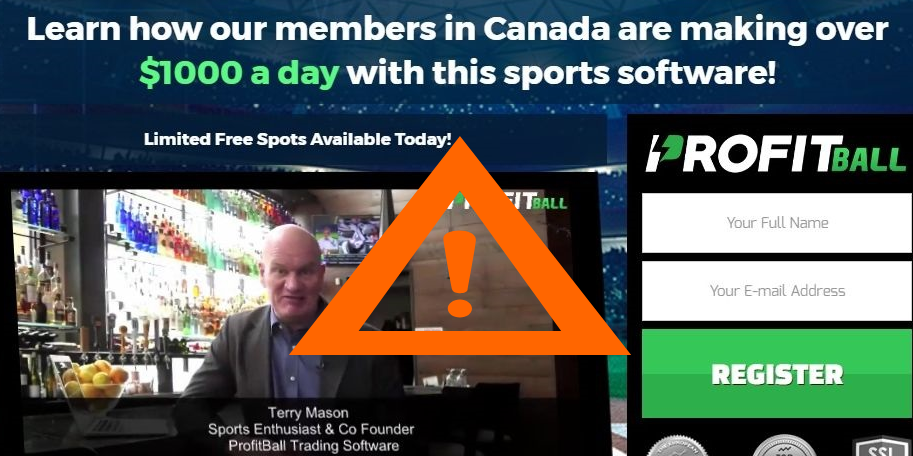 owners of profit ball
the alleged creators of this scam are terry mason and joshua ethan, described as a financial analyst. These two are just paid actors given that role to play. The real owners are scammers who choose to stay anonymous.
Their Scam Strategy Busted
The software is described to have been able to choose the right stock to trade on with the help of sport psychology and trade algorithms, but we know that binary options trading focuses on assets such as currency pairs as its trading instrument. There is no connection between sport psychology and currency pairs. This method does not work with currency pairs, this is just one proof.
Furthermore, they claim that the ProfitBall software guarantees a 100% success rate and is able to make a profit of $1000 in a day.This is an impossible claim because there has never been any software in the history of binary options trading that was able to achieve such level of accuracy. Also, making such a huge amount of money just in a day calls for more suspicions.
The testimonials recorded in the video are obviously falsified as the testifiers are all well recognized scammers who have played a role in other scams software. They never used the software at all, they were just paid to peddle lies and falsehood.
Even their trade sessions were all falsified and meaningless. It shows trade being carried out on weekends when the markets are closed.
We also found out that the software was only released in 2017 yet these scammers claim the software has been in existence since 4 years. How can we then trust them when all they feed us with are lies.
Their major target is to lay hands on your hard earned money once they have been able to convince you to register and make a minimum deposit of $250 with their unregulated brokers to enable you  start trading. When you deposit your money, these scammers will feast on it and share it with their unregulated brokers. There is no way you can get a refund of your money since the brokers are not regulated.
Review Verdict
ProfitBall is a SCAM
Conclusion
Beware of Profit ball. It is of no use, instead you will end up feeling sorry for your actions.
Trading binary options could be very profitable, only if you use legitimate softwares and tools. Run away from scams, they will lose your investments and leave you devastated. Only use systems recommended by our team of professionals. 

Thanks for reading our review of ProfitBall. Stay safe! Fight scammers
Summary
Reviewer
Review Date
Reviewed Item
Author Rating