Neo2 app is one of the many binary options scam trading softwares in the market today, offering huge promises to traders just to steal their hard-earned money. Here are what we found out about them in the course of our review of the Neo 2 software.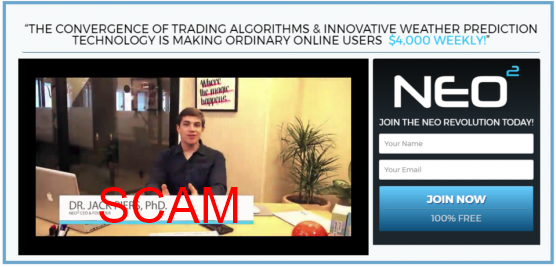 Founder of NEO2
A man called dr Jack Piers addresses himself as the CEO of NEO2 software. He is a paid actor working hand in hand with the real creators of this scam.
How does neo2 work?
He claims that the Neo2 app software makes use of knowledge from the study of weather to predict trends of trades, therefore he gives traders the assurance that the software creates 85% winning trades for its users. But you and i know that the financial market is not dependent on weather predictions, how then can this software prove reliable.
In the Neo2 website, these scammers claims that the software is capable of making $4000 every week and ofcourse it is free. The truth is that for you to start trading there should be a minimum deposit of $250 which goes to the brokers account whom they are affiliated to, this is not the problem at all because to actually start real tradings with any system, you have to deposit in your broker account. The problem here is that the Neo2 software is synced with unlicensed brokers which are also part of this scam. The moment you deposit your money, these scammers will divide it among themselves and place losing trades for you which would leave you frustrated and devastated.
Hired actors have been used to give false testimonials of how good the software has been in earning lots of money for them. They have never used the software, they are just acting out a script to convince you to invest. This is typical of most scams we have seen and reviewed.
Review Verdict
Neo2 is a SCAM
Conclusion
Neo2 app is a dangerous scam with paid positive reviews. It has nothing good to offer and will only leave you frustrated.
Trading binary options could be very profitable, only if you use legitimate softwares and tools. Run away from scams, they will lose your investments and leave you devastated. Only use systems recommended by our team of professionals.

Thanks for reading our review of Neo2. Stay safe! Fight scammers
Summary
Reviewer
Review Date
Reviewed Item
Author Rating