Gold Euro Trade Scam Review: In this article, we have given proof why you can't make $50,000 a week through this software but instead you will lose your deposited fund. We advise our readers to go through this review before signing up with this software.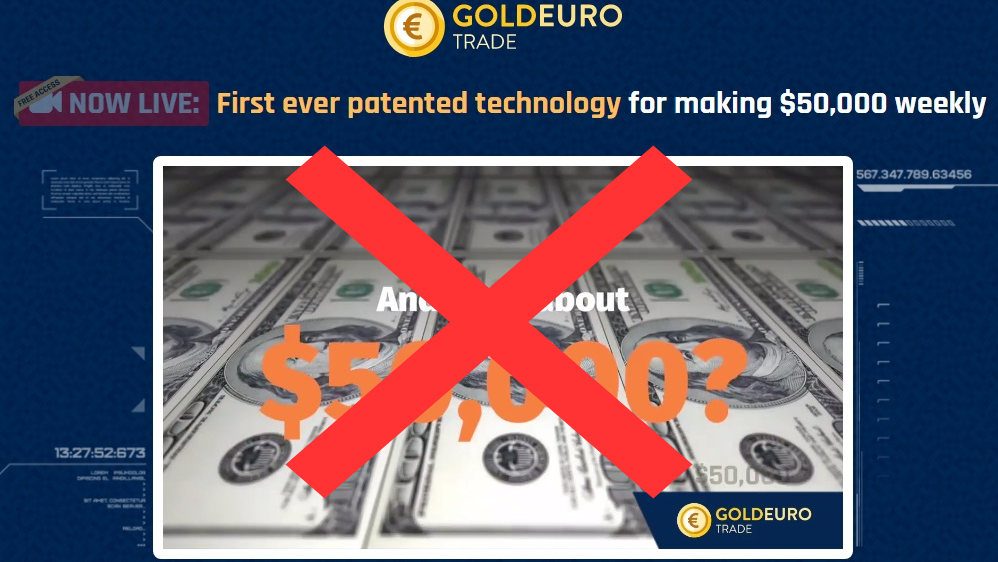 Who is the owner of Gold Euro trade
The man described as Josh harris is the alleged owner of gold euro trade. Heis just a paid actor and not the true owner.
Their Scam strategy exposed

Majority of these scammers do not like to reveal their true indentity that is why they choose to hire people to cover up for them. We could not find any information about the man called josh harris. This tells us that such a name does not even exist and is just made up. How then can we believe any word coming from this man?
Also, his software claims a profit of $50,000 every week. This is a bogus claim. Such an amount cannot be achievable through binary trading not with a start up of $250.
We were told that the software analyses all the market movement with the probability of 99.99996%  and no risk involved and that the software is being offered for free. The question is, can a success rate of 99.9996% be achieved by any software in the binary options market? The answer is NO. It is impossible to predict the market with such level of accuracy.
The GoldEuro Trade software used paid actors who are known to always associate with scam software to give false testimonials. These persons never made use of this software. it is just a trap to make peope think they are actually genuine.
They claim to need a limited number of persons but this obviously is a lie. They just use it as means to hurry traders to sign up with them.
As soon as you register, you will be required to make a deposit to the brokers account they refer to you. This deposit wil enable the software to start trading for you. The sad news here is that this is where these scammers get their money. Immediately the money is paid, these scammers are given their own share for refering you to their unregulated brokers. You are now left with nothing and no hope for a refund since these brokers are not regulated.
Review Verdict
GoldEuro Trade is a SCAM
Conclusion
Avoid Gold Euro Trade binary software. It loses trade instead. all its promises are too good to be true.
Trading binary options could be very profitable, only if you use legitimate softwares and tools. Run away from scams, they will lose your investments and leave you devastated. Only use systems recommended by our team of professionals.

Thanks for reading our review of GoldEuroTrade. Stay safe! Fight scammers
Summary
Reviewer
Review Date
Reviewed Item
Author Rating