German Binary Robot Review: This software is one of the binary options scam with video displaying luxurious items which they claim you could afford by using their software. This is common among scammers. We advise our readers to go through this review in order not to make the mistake of trying out this software.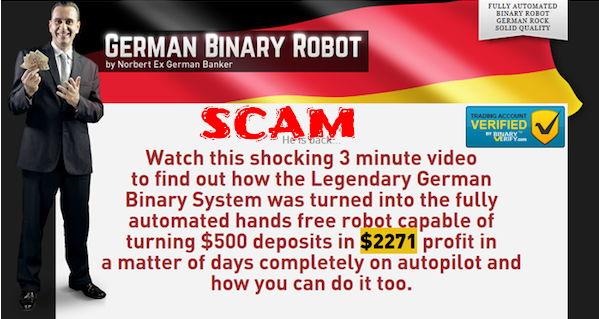 owner of german binary robot
this software is allegedly owned by noberts, an ex german banker as he claims. The truth is that he is a well known scammer.
Their Scam Strategy Exposed
We were told that the german binary robot software is capable of turning your $250 deposit into $2271 profits in a matter of days completely on autopilot, and according to the developers, the software is actually risk free. The truth is that such an amount is too good to be true. Also saying that it is risk free is obviously a lie because in the binary options trading, some level of risk is involved. So this software and its owners are not to be trusted.
They also claim that there are only 6 trial spots remaining, so, traders are lured into registering as fast as possible so as to enjoy their services. To be sincere, this claim of limited trial spot is just one of the numerous strategies they use in defrauding traders.
They also offer free trial for 30 days. that is, you are allowed to test the software for one month without paying for download but if after that 30 days you decided to continue, you will be charged $2400 as download fee. the trick here is that they know that people will eventually not pay the $2400, so their main focus is to get you registered and deposit $250 into the brokers account whom you are being referred to. These scammers will now get their own commission from the broker and since these scammers are known to always deal with unregulated brokers, there is no way to get back your deposit from them. Then you end up losing all your hard earned money to these fraudsters.
Review Verdict
German Binary Robot is a SCAM
Conclusion
German binary robot is a  HUGE scam. It loses trades in reality. Do not waste your time and money on this software because you will definitely regret it.
Trading binary options could be very profitable, only if you use legitimate softwares and tools. Run away from scams, they will lose your investments and leave you devastated. Only use systems recommended by our team of professionals.

Thanks for reading our review of German Binary Robot. Stay safe! Fight scammers
Summary
Reviewer
Review Date
Reviewed Item
Author Rating