Dream System Review: if you are wondering whether this software is geniune. Then find out in this review of Dream Profits. This software was just reloaded from previous scam that have stolen huge amount of money from traders.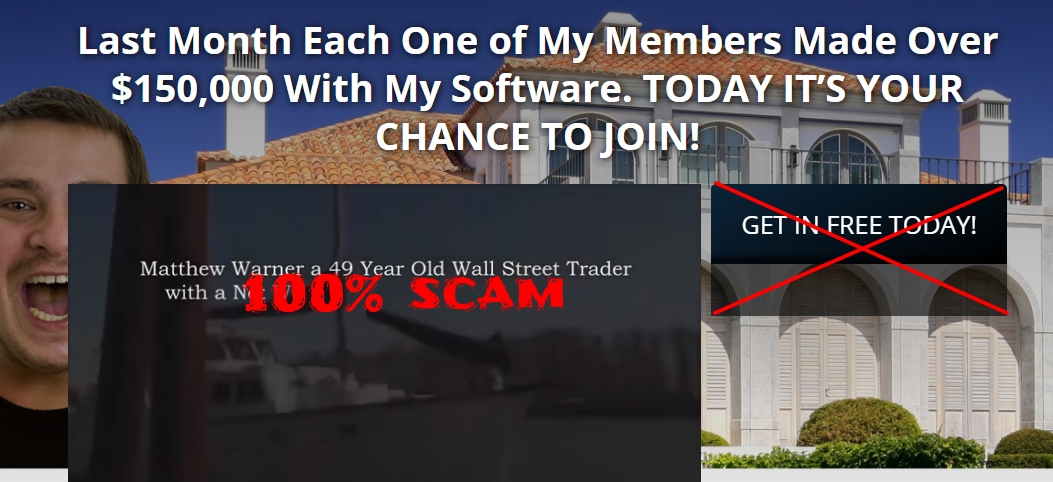 owner of dream system
Mathew Warner is the alleged owner of dream system. he claims he is a successful online trader and would like to help others become a millionaire like him. All these are lies.
Their Scam strategy Exposed

The claim of making a huge profit for the user of this software by just registering and setting the software on auto trade is nothig but a big lie. It never made real profit only loses. It has been confirmed that the software is just a recent relaunch of former scams such as dream profit, plenitude formula and 98 success app. Everything stated in this software is no different from the promises given in these scam softwares we mentioned earlier.. What we are saying is that even the so called Mathew warner featured in both scams. The truth is that the name does not exist, this guy is just a paid actor covering the true identity of the real owners.
Also, if you take a closer look at the testimonials from their so called users, and you have come across these scams mentioned above, you will discover that these scammers just copied the exact testimonial given in 98 success app. They could not even try to do something different.
Another way they use in trapping traders  especially newbies is the offer of a bonus of $4250. These traders happily give in to these scammers not knowing that it is a very dangerous scheme for defrauding people. Once they go for these bonus, their account is being automatically blocked . This means that no withdrawal can be made once you discover their trick
These scammers claim to be given out this Dream profits survey/dream sytem software for free with no risk involved but the fact is that it is not actually free. As soon as you register, you will be required to make a deposit to the brokers account they refer to you. this deposit wil enable the software to start trading for you. the sad news here is that this is where these scammers get their money. immediately the money is paid, these scammers are given their own share for refering you to their unregulated brokers. You are now left with nothing and no hope for a refund since these brokers are not regulated.
Review Verdict
Dream Profit System is a SCAM
blacklisted website: dreamsystem.co
Conclusion
Dream system/profit is a recycled scam. beware of them. they will end up taking away the money you worked hard for without making any profit for you.
Trading binary options could be very profitable, only if you use legitimate softwares and tools. Run away from scams, they will lose your investments and leave you devastated. Only use systems recommended by our team of professionals.

Thanks for reading our review of Dream System. Stay safe! Fight scammers
Summary
Reviewer
Review Date
Reviewed Item
Author Rating