Code fibo Review: CodeFibo app has been confirmed as a scam presenting lies to its intending users. It has been tested and proven to be a means of defrauding unsuspecting traders especially newbies in the binary options market. Reading this Code Fibo review will make you see reasons why we have blacklisted this software.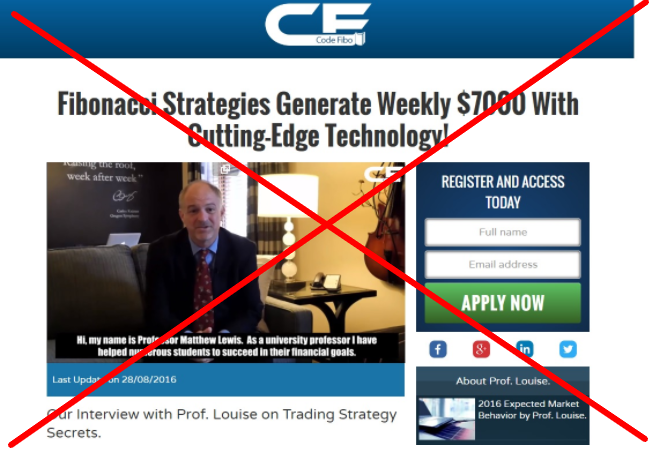 Founder of code fibo
A character with the fictitous name Professor Mathew Louise is the alleged owner of this  scam called codefibo app. We found out that he is just paid to play this role and he had also been involved in a scam called virtual online
How does code fibo work?
The so called professor claims that the code fibo software uses Fibonacci number to predict winning trade and that is the reason why it could make such amount of profits in a week. These are just deceptive languages to lure newbies, and also, according to him, the software is free and guarantees 97% success rate (no software can ever attain such win-rate because of the constantly changing market) but we all know that trading binary options requires a deposit of $250 which is the minimum deposit accepted by most brokers. This money is paid into the brokers account and most of the time these brokers happens to be unregulated. Their sole aim is to rob you off your investment giving these scammers a share of the money deposited.
Further scam strategies
Code Fibo trading app promises users a weekly profit of $6900 using this autotrading software. This is utterly false, this software has never made such for any trader. Throughout the video presentation, fake testimonials from alleged random users were displayed but the truth is that they are all fabricated and the so-called users are all paid actors. They never made any real profit with this software, they are just acting out a script. We also noticed that there are other websites promoting this scammers too. They also have their share for partaking in this dubious act. Their duty is to write positive reviews about the software so that any intending trader that reads it becomes easily convinced to try using the software. In the end the owners of these websites are compensated.
Review Verdict
Code Fibo is a SCAM
Conclusion
Code fibo app is a huge scam that you must avoid. It has nothing good to offer. Scammers run this software to steal peoples money.
Trading binary options could be very profitable, only if you use legitimate softwares and tools. Run away from scams, they will lose your investments and leave you devastated. Only use systems recommended by our team of professionals.

Thanks for reading our review of Code fibo. Stay safe! Fight scammers
Summary
Reviewer
Review Date
Reviewed Item
Author Rating