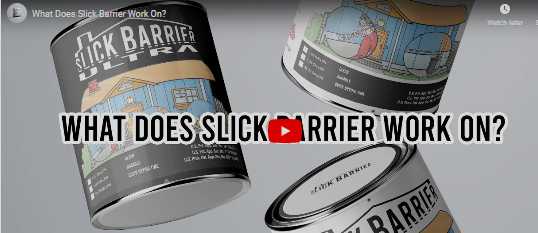 Is Slick Barrier Paint worth the cost? Are you battling with crawling pests and rodents? Do you want to say goodbye to harmful pesticides? If your answer to the above questions is YES, this review is for you to find out everything you need to know about this product.
What is Slick Barrier Paint?
The Slick Barrier Paint is one pest control solution created by two fathers from Gilbert, Arizona — Tony and Aaron. The product was borne out of constant pests and harmful pesticides around their environments.
Slick Barrier Paint is a product that claims to solve your  rodents and insects problem effortlessly. It comes in different kits such as small starter kit $99, large starter kit $199, and much more. They assured one year standard warranty and a shelf life of five years. Also, it claims to last longer depending on weather conditions.
On the website, the product says it is a clear and durable coating, applied to the exterior of building creating a slippery, non-stick surface that crawling pests can't climb.
While the product appears legit, this review is for you to know if the product is worth buying or not. More so, this review will expose all that is needed to know about this product.
See features, uses, advantages and disadvantages.
Features:
Paint brush
Paint pail
Set of gloves
Slick barrier water use
Multiple sized kits for coverage
Slick barrier ultra
Advantages
Easy to paint on surfaces
Pesticide free
Suitable for homes and business environ
Disadvantages
No customers' remarks online about it yet
It is pretty costly
How To Use Slick Barrier Paint
The Slick Barrier Paint is easily used by simply painting a vertical surface where the pest and rodents are having their way. It is not advisable to be used on the floor as it will not work effectively.
Where To Buy Slick Barrier?
The slick barrier paint can be shopped directly through their official site slickbarrier.com. The barrier paint comes with variety of sizes — Starter kit and Large home kit.
Does The Paint Last Long?
Slick Barrier paint can last up to 1 to 2 years, however, if the coating is exposed to extreme weather condition you can easily touch up your coating every year through their subscription program. 
Does Slick Barrier Paint Really Work?
Slick Barrier Paint is another pest control solution claiming to be effective in service. In all its presentations, the product claims to be better than most pest control solutions that only kill the pests. However, there are no customers' feedbacks on external sites other than the YouTube videos presented on the website.
Just so you are aware, external reviews are based on real experiences that help in learning about the product before shopping.
Bottom Line:
Slick Barrier Paint located at Slickbarrier.com is a pest control product promising pest free environment and safety. Considering the Slick Barrier, it can be used by consumers. However, we would advise buyers to research thoroughly to avoid purchasing fake pest control solutions online.
Have you purchased this product before? Please write us your experience in the comment section below. Thank you!
Click here to read earlier skin serum review