Are you looking for an effective teeth whitener? Wondering if Power Swabs Teeth Whitening Kit works? Read this Power Swabs Teeth Whitening Reviews to know if this is the right product for you.
What Is Power Swabs Teeth Whitening?
Power Swabs Teeth Whitening is a 2-step teeth whitening product that promises to make your teeth sparkle in no time. The kit causes no sensitivity and can whiten the teeth after the first use. A box set costs $59.90, and it is sold on Power Swabs' website and on Amazon.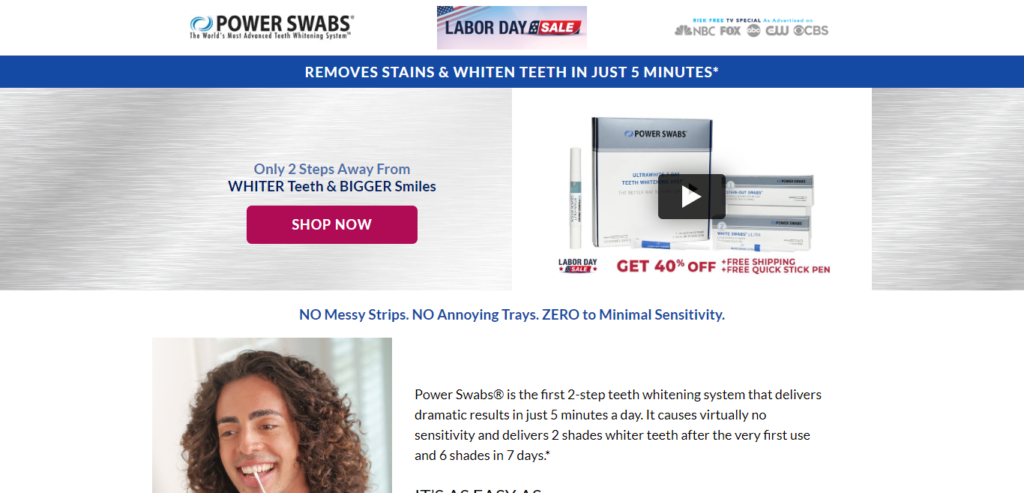 Do You Know You Could Get Back Your Money If You Have Been Scammed?   Great News! Click HERE to Get Started
Does It Work?
There are tons of products like Power Swabs Kit on the internet and they all claim to give amazing results.
In our reviews, what we always look out for are these:
the visibility of the product owner
the authenticity of their website contents
what customers are saying about the product
Most fraudulent products have no visible owner and always use plagiarized information, and they usually do not have reviews outside their own store.
For Power Swabs, we found that the product is owned by Dr. Martin Giniger. His identity was easy to confirm. Usually, products that are not genuine do not have visible owners; that way, there would be no one to hold to account when customers are disappointed.
Also, we found positive reviews outside their website. Why we do not trust in-house reviews is that it can be manipulated by the product-owner.
On Amazon, a customer wrote this:
Let me first say, I am an avid coffee drinker and I smoke. I am so pleased with how well this product works. The process is easy. No pain to my teeth. Now I have Nice white teeth for my sons wedding. I do recommend applying lip balm prior to using. I experienced minor irritation to my lips with the first use. As recommended I used lip balm before applying the product with no further issues..

-jennie bezick
Verdict
Power Swabs, like Superzilla, is a genuine product and it works. There are enough positive reviews to confirm the authenticity of the product.
If you have used this product, please share your experience with us in the comment section.