Searching for a heating device? Are you wondering if Porta Heat can properly heat your home? Read this review to know if this home heating gadget is legit.
What Is Porta Heat?
Porta Heat is a portable home heating device that can "quickly and easily heat up the temperature in the room" in 3 seconds. The device costs 79.80 pounds and is sold on www.pricedaily.com. Their contact information is: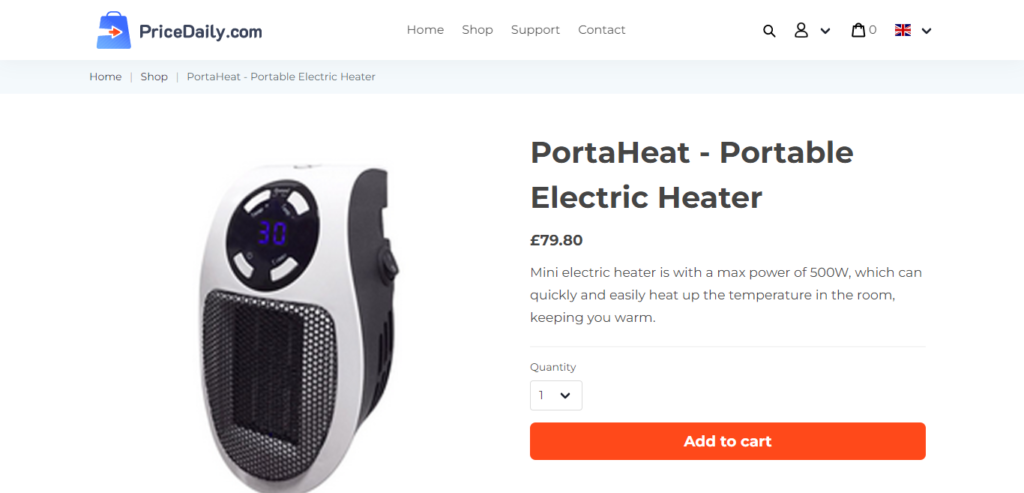 How Does Porta Heat Work?
Porta Heat mini electric heater has a max power of 500W. The manufacturers of this product claim that, with that amount of power, Porta Heat, despite its small size, can heat a home or full office space in just 3 seconds. The electric heater has 2 adjustable speeds, with a timer function that counts from 1 to 12 hours.
With its auto power feature, Porta Heat switches off when it has achieved the set temperature. This way, there will be no case of overheating. It is built with ceramic heating elements and it consumes no oxygen. Also, Porta Heat has a remote control, which adds convenience to its use.
All these functions and features sound enticing. But does Porta Heat really work?
Do You Know You Could Get Back Your Money If You Have Been Scammed?   Great News! Click HERE to Get Started
What We Found About Porta Heat!
Every now and then, a product takes the internet by storm, with its ads everywhere, promising mouthwatering features and results. Sometimes, such products with promises that are too good to be true have turned out to be scams.
When we looked closely at Porta Heat, we discovered that it was not branded. A quick Google image search returned pictures of Porta Heat advertised under other names. Generic products such as Porta Heat turn out to be scams.
In addition, we have extensively searched for customer reviews, to confirm that Porta Heat does all that it promises. However, we found none. A product without a brand name and customer review is one we cannot trust.
Verdict
Please stay away from this product for now. Not seeing any customer review on it is a red flag already. Do not be deceived by its enticing offers.
There are many untrustworthy products on the internet promising top-notch features.
It is common to come across e-commerce stores offering these products at appetizing prices. But, in the end, such products usually turn out to be fake.
Most people attracted by these "too good to be true" features from these stores have bought devices of their liking but received something different from what they had ordered, and of poor quality.
It is unfair to fall victim to these fraudsters and lose the money you earned from honest work. Fact-checking should be a priority before you buy anything online.
If you've used Porta Heat, please share your experience with us in the comment section.