Napbots.com Reviews:
Is Napbots.com to be trusted? Because we are concerned about the financial safety of our readers, we did extensive research and made a review on Napbots. Please read our review before you decide if you should throw your time, expectation, and money into this trading platform.
What Is Napbots.com?
Napbots is an automated trading platform in the crypto-currency market. With their platfrom, they invite users to "Connect, Select & Trade". They have autopilot crypto trading bots which will make copy-trade easy for users. The trading bots are there to help users trade, keeping their emotions in check. Here is a broader definition of what the bots do:
Do You Know You Could Get Back Your Money If You Have Been Scammed?   Great News! Click HERE to Get Started
Crypto trading bot essentially is a software that automatically analyzes market data and makes trading operations based on indicators built with these data

NapBots
Their website is www.napbots.com, and the contact information provided on their website is:
Email: [email protected]
Address: 59 rue Montmarte, 75002 Paris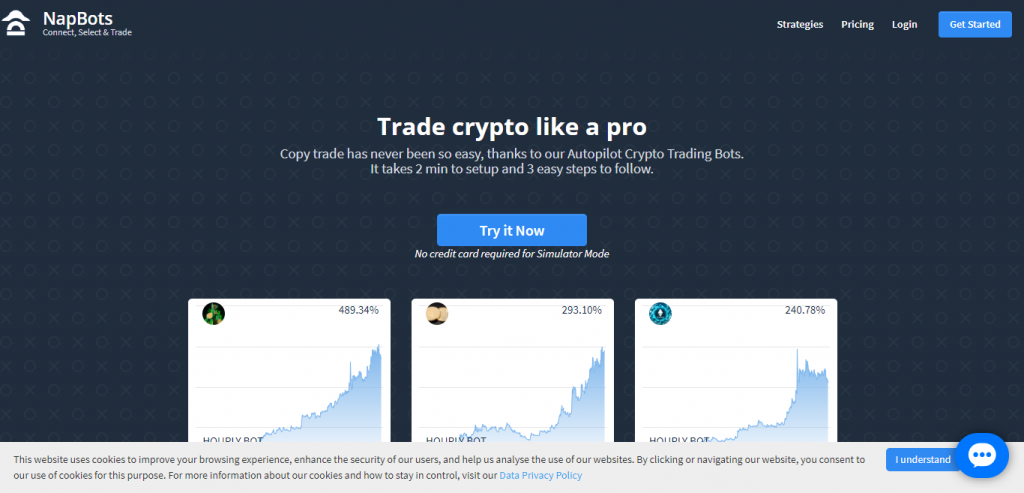 How Does Napbots.com Work?
Napbots claims to enable users to "Trade like a pro." As written on their website, "Their Napoleon team has been developing overperforming strategies for more than 2 years on various crypto assets (Bitcoin, Ethereum, Litecoin, Ripple, Bitcoin Cash, Binance and EOS)." You can trade with them in three easy steps:
Select favourite crypto exchange.
Select crypto signal of choice
Pick the budget that you want to allocate or let the AI take care of it.
Napbots is compatible with the following cryptocurrency exchanges: Binance, Okex, Bitmex, Bitfinex, Kraken, Bitpanda, and Bitstamp. And they provide three investment plans: Silver Plan, Gold Plan, and Platinum Plan; running for 7 Eur/month, 39 Eur/month, and 99 Eur/ month respectively.
Do You Know You Could Get Back Your Money If You Have Been Scammed?   Great News! Click HERE to Get Started
What We Found about Napbots.com!
Napbots is owned by Napoleon software, a simplified joint stock company. There are mixed reviews about them on the internet. While some claimed they profited from trading with Napbots, some claimed they didn't. Here are some comments we got from Trust Pilot:
Most of the reviews are fake. This is the worst bot that I have ever come across. I lost too much money with their bot (especially BTC & ETH Hourly bot) for two months period and even those graphs are fake. Good thing they gave a refund. If you don't believe me then use it and know it.
— Duncan

Trust Pilot
Great generally speaking. Been using it for a month & so far so good. I would like that they could expand to a marketplace of signals and a referral program will be awesome. In general incredible help & trading bot.
— Mario

Trust Pilot
Verdict!
Napbots.com, despite seeming reliable, should be approached with caution, especially as the reviews about them are mixed. There is always a risk factor in any trading, and also a possibility of loss.
There are many untrustworthy trading websites on the internet promising get rich quick options. Most people attracted by these "too good to be true" ROIs from these sites have invested their money expecting profit but lost everything in the end. You do not have to become one of them to learn from their experience. It is unfair to fall victim to fraud and lose the money you earned from honest work. Fact checking should be a priority before you throw in money into any online trading scheme.
TOP RECOMMENDATION
SEARCHING FOR A LEGIT INVESTMENT PLATFORM? Look no further, our team of professionals have tried many platforms and are delighted to recommend a system that actually works.  Click HERE to Start Profiting