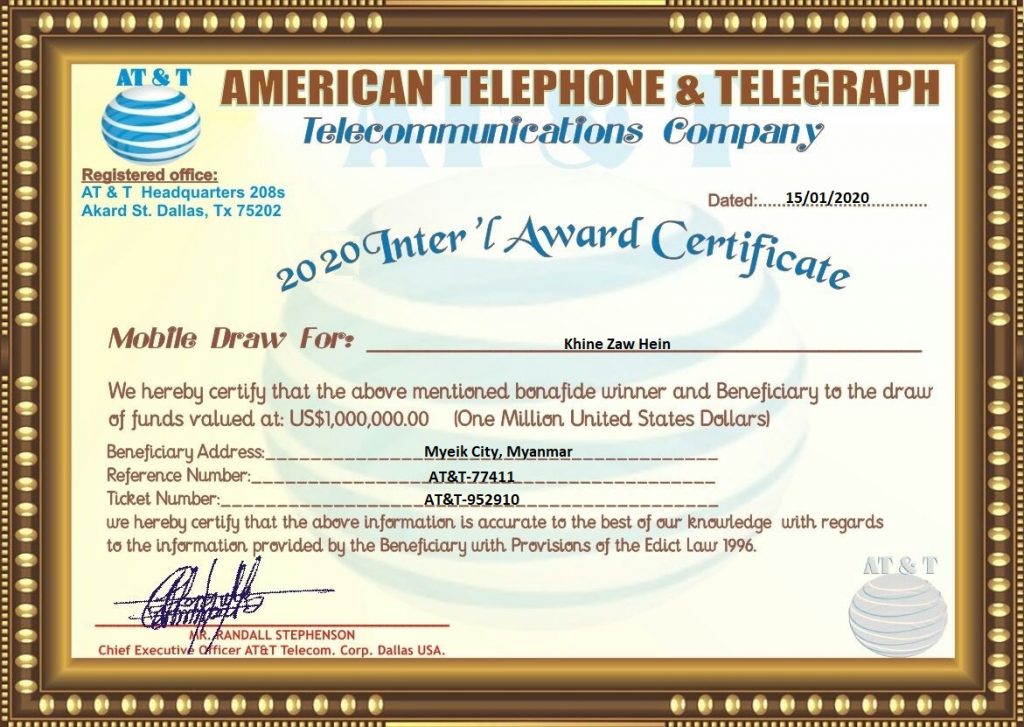 ATT Mobile Draw: An Introduction
Screenshots of an email declaring people winners of the 2020 American Telephone and Telegraph (at&t) Mobile Award has been going round on the internet. This has left people asking questions like: Is the 2020 AT&T Mobile Award scam or legit? This has prompted us to dive into a deep review of the ATT Mobile Draw to know the authenticity of it. Read our review to know if the 2020 AT&T Int'l Mobile Award is legit or scam.
2020 AT&T Mobile Draw: Real or Fake?
After looking through the ATT company's promotions, we discovered that there was nowhere they indicated of an ongoing lottery or mobile draw. These emails are being sent by scammers to potential victims. The email has, attached to it, a form where customers are required to fill in their personal information and a certificate declaring the customers "bonafide winner and Beneficiary to the draw of funds valued at: US$1,000,000.00 (One Million United States Dollars)".
Do You Know You Could Get Back Your Money If You Have Been Scammed?   Great News! Click HERE to Get Started
How it works: 2020 ATT Mobile Draw Award is Scam!
The huge amount of money is a bait intended to trick the customers into believing they will suddenly get rich quick, and in that euphoria rush do anything they can to claim the lottery money. People who responded to the email were asked to send money to the scammers who posed as at&t agents. The scammers claimed the money would be used to start processing the prize money out of the system for the winners. But once these scammers receive the money they would vanish into thin air, leaving the customers who thought they were going to get rich poorer than they were before.
What to do when you receive such emails
You are advised to delete and ignore such emails. Do not respond to them and do not send any money or share your personal information with them. For further information on how to protect yourself from swindlers like this visit https://www.att.com/support/article/wireless/KM1159567/